Miami Iron Addicts Gym Owner Richard Rodriguez Launches His Online Coaching Site
Miami Iron Addicts Gym Owner Richard Rodriguez Launches His Online Coaching Site. CEO/Founder of WellnessFitnessNutrition, Hormone Club and the famous Iron Addicts Gym Miami Returns
Press Release
-
updated: May 7, 2017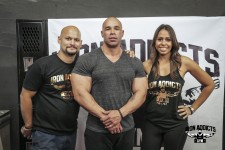 Miami Beach, FL, May 7, 2017 (Newswire.com) - CEO/Founder of RR Ventures LLC Richard Rodriguez is unlike any other CEO. Here we have someone in the fitness and wellness industry that received many personal accolades during his career and his companies have also been consistently recognized as industry leaders.
On February 22nd, 2017, Richard Rodriguez was wrongfully accused by the DEA for Steroid-Selling and claiming that its operations were directly above his popular gym in Miami Iron Addicts Gym Miami. Not only was that information fabricated and has zero substance, they went ahead and took everything from him and his family and caused 100's of people across the United States to lose their jobs. 
They think that after the embarrassment, reputation they attempted to tarnish and all the seizures of assets and funds, they would see him crumble, they were wrong. "Many haters and envious people and news fabricators want me to fail, but I will never rest, until I prove them wrong and give them more to hate" is what Richard Rodriguez said to Channel 7 during a brief interview.
What Richard Rodriguez is slated to do with RR Ventures LLC, he promises will be even bigger and more successful than any other of his previous ventures.
www.rrvteam.com is going to dominate the peptide, transdermal, hormone, contest prep and online coaching market. The site will highlight his 20+ years experience in diet plans, contest prep & personal training, also expertise in transdermal, peptide and hormone optimization. 
No other site will you be able to purchase fully customized meal preps, lab testing, custom supplements conditioning/diet plans and sports apparels under one roof. If you are interested in being part of this journey and become a brand ambassador, fill out an application now.
The availability is quickly filling up with athletes he will be working with, so if you are interested now, schedule your Free 30 Minute Consultation Now or Fill out an application for consideration. 
Look out in June for Richard Rodriguez documentary release that he has been working on extensively with YouTube Sensation JonnyBravoTV. This will absolutely bring light on the events that people are unsure off, since they only see or hear what was revealed. 
Richard Rodriguez is also working on launching a film about the industry and currently is working with several attorneys evaluating candidates for roles in the film.
Be sure to continue to follow him on his social media profiles and he is forever grateful for all the prayers, good motivation and inspiration everyone has and continues to provide to him and his family.
Source: RR Ventures LLC
Share:
---
Categories: Celebrities, Sports, Fitness, and Recreation, Exercise and Physical Fitness
Tags: Bodybuilding, CT Fletcher, DEA BUST, Iron Addicts Gym Miami, Kevin Levrone, Mike Rashid, peptide, Peptides, Richard Rodriguez iron addicts gym miami, Richard Rodriguez Miami, WellnessFItnessNutrition, WFN Pharma
---