Mi Amor Gala & Safe Passage Unite Leaders Through Empowerment Fashion Show
A powerful, dazzling fundraiser for Safe Passage, a 501(c)(3) Non-Profit Organization that helps women escape the horror of domestic abuse.
Press Release
-
updated: Nov 28, 2016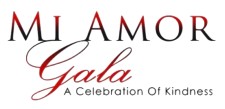 Beverly Hills, CA, November 22, 2016 (Newswire.com) - Two years ago, Luisa Diaz, founder of Mi Amor Gala, joined forces with Safe Passage, a non-profit 501(c)(3) organization that works to repair the damage done from abuse. Since launching, Mi Amor Gala has produced several successful events and raised thousands of dollars for nonprofit organizations.
"I am very excited and proud to be able to celebrate our 2nd year anniversary. Domestic Violence is close to my heart," says Latina philanthropist Luisa Diaz, "…as a little girl when I was growing up I saw my beloved grandmother being verbally and physically abused by my grandfather. Mi Amor Gala has been possible because of a snowball contribution of kindness. I always wanted to help my grandmother, so my involvement in domestic violence is in her honor."
Pat Harvey, CBS2 News Anchor agrees, and calls Safe Passage, "the #1 charity in giving women and their children the tools to a new life! I have seen and heard the victim's victorious stories."
On Thursday, December 8, 2016, Mi Amor Gala will host its Second Year Anniversary, 'Dreams of a White Christmas', and our inaugural Empowerment Fashion Show with the Ladies of Safe Passage,
"It has been a dream of mine," said Luisa Diaz "...to create this fashion show that celebrates hope, empowerment and a new beginning for the ladies. I want all of them to feel confidence as beauty queens, ready for a new chapter in their life."
Many celebrities will be present, among them will be; Adrienne Maloof of the Real Housewives of Beverly Hills; Christine Amrani, Real Housewives of France; Beverly Hills power couple, Dustin Quick and Medi Em; Prince Mario-Max Schaumburg-Lippe; International model & actress Sophie Turner; Jim Hill, Newscaster from CBS2; International Singer,  Maria Elena Infantino; CBS2 News Anchor, Pat Harvey; Chanel Capra, Writer/Producer; Stefan Apostolov, Film Director; Ava Capra, Actress; DR. Sam Nguyen, Ms. National United States Woman of Achievement 2016, Steve Cederquist from the Hit HGTV Show - Flip or Flop; Sage Stevens, Film and Event Producer.
This year's Mi Amor Gala Award will go to the admirable and well-respected Ron Galperin, LA City Controller, for his continuous support of Safe Passage.
Trish Steele, founder and CEO of Safe Passage is filled with gratitude at the awareness and support that Mi Amor Gala brings to her organization stating, "Mi Amor Gala has showered our charity with love and kindness over the past 2 years and we are so proud to have Luisa Diaz raising so much awareness on abuse."
Adrienne Maloof of the Real Housewives of Beverly Hills has been a supporter of Mi Amor Gala since its first event in 2014. Adrienne is excited for the Second Year Anniversary and says, "Mi Amor Gala is truly making a difference with Safe Passage. I'm proud to continue my support of this great cause that empowers and brings hope to other women. Luisa's events are always spectacular with a meaningful purpose."
What: Mi Amor Gala celebrates their Second Year Anniversary, 'White Christmas Fashion Show'. The Gala will include entertainment, drinks, food, a silent auction, and our inaugural empowerment fashion show.
When: Thursday, December 8, 2016 from 6:30 p.m. to Midnight.
           Red Carpet from 6:30p.m. to 7:30p.m.
           Complimentary wine and champagne available from 6:30pm to 8:30pm.
Where: CBS Studios, 4024 Radford Ave. Studio City, CA 91604
Hosts: Luisa Diaz, Founder of Mi Amor Gala, Latina TV Host and Producer
           Trish Steele, Safe Passage, CEO
Safe Passage takes a holistic approach to healing bodies, souls and minds. We empower women by repairing the damage done from abuse, so that the violent cycle can finally stop. The women are transformed emotionally and physically with help from our unique team of doctors, life coaches, and counselors. http://safepassagelives.org/
Source: Mi Amor Gala and Safe Passage
Share:
---
Categories: Celebrities, Non Profit, Entertainment
Tags: activism, awareness, benefit, beverly hills, celebrity awareness, charity, charity event, domestic violence, event, fundraiser, gala, white christmas
---