Mexican Federal Appeals Court Grants Permanent Injunction for Repossession of Beachside Land in Tulum, Mexico
Press Release
-
updated: Jan 17, 2019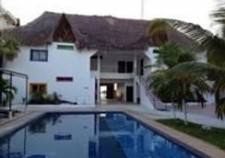 CANCUN, Mexico, January 17, 2019 (Newswire.com) - Graham Gordon Alexander Aguilar has been granted an Amparo by the 27th Federal District Appeals Court by unanimous decision, the Mexican equivalent of a permanent Injunction, allowing the repossession of a beachside property with the assistance of the Mexican Federal, State and City authorities in Tulum, Quintana Roo Mexico. The property is also known as Parayso Beach Hotel and or Villas Alex. The Amparo was issued on Jan. 10, 2019 at 3:10 a.m. Eastern Standard Time with the final sentence to follow shortly.
Mr. Alexander is quoted as saying, "We are very pleased with this result; there is much more needed to be done and I thank God for this Victory and Faith in him to put trust in him when you fear the most. I thank my ambassador to Canada, Pierre Alarie, Carlos Joaquin Gonzalez, the governor of Quintana Roo, and my team of outstanding lawyers. I look forward to once again shortly take possession of my land."
Graham Gordon Alexander is a Canadian Mexican Dual nationality citizen, residing in Vancouver, Canada who built Parayso Hotel in 2004 with 24 rooms, 2 restaurants, and 3 commercial stores since 2004.
 
Please contact:
Graham G. Alexander
graham.g.alexander@gmail.com
Ph:+1604-6004961
Source: Graham Alexander
Share:
---
Categories: Business, Entrepreneurship
Tags: Graham Alexander, Graham Alexander Mexico, Graham Alexander Tulum, Graham Gordon Alexander, parayso beach hotel, Tulum
---
Related Files
Additional Links