Metal Defender Releases Patent Pending Walk Through Metal Detector
Press Release
•
updated: Jun 27, 2018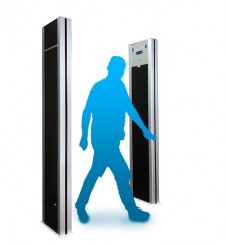 MINOOKA, Ill., June 27, 2018 (Newswire.com) - Metal Defender Inc. a walk-through metal detector company based south of Chicago in Illinois has just received a patent pending approval on their new line of walk-through metal detectors. The new metal detector will provide unprecedented utility found nowhere else on the walk-through metal detector market.
With the state of current affairs within the U.S. Metal Defender has installed hundreds of metal detectors in establishments including but not limited to; Casinos, Courthouses, Cruise Ships, Prisons, Concert Halls, Manufacturing Plants, and many other venues. With the company's willingness to work with the customer on their needs they have provided many rental opportunities for companies like Berkshire Hathaway, the NBA, and the NHL.
Metal Defender has noticed many schools need to implement safety solutions that don't disrupt the learning environment. The XLD-H walk through unit is an exceptional fix to this issue with its single wall design. As opposed to conventional magnetometers where there is often a giant head unit above that gives the person being screened a feeling of breach and invasion; XLD-H was engineered to eliminate or mitigate that intrusive feeling. The wide passageway offers an area of up to 48 inches to provide users with a feeling of comfort while walking through, unlike a conventional metal detector where you're boxed in. All in all, the XLD-H is a perfect fit for schools, due to its ability to provide professional top-notch security while not making the screener feel as if they are entering a prison. At the end of the day, the goals are simple: safety and security.
Due to the unique nature of the product, Metal Defender has made all the necessary steps to test the units to the same standard that all other metal detectors in the world have to adhere to. Through rigorous testing, they have found it not only meets the standards but far exceeds them.
At a price point of $2145.00 for both sides of the metal detector there is no better deal on the market which provides the same security and utility as the XLD-H.
For more information on this walk through metal detector please contact us.
Sales/Support
815-290-5354
815-467-6464
Sales@metaldefender.com

Source: Metal Defender
Related Media