Membrain Named Momentum Leader in G2 Spring '21 Report
Press Release
•
updated: Apr 9, 2021
Membrain, the Sales Enablement CRM for B2B Sales, ascended to the Leader Quadrant for CRM in G2's Momentum Grid Report for Spring 2021. The report also gave Membrain recognition as a "High Performer" in both the Sales Performance Management and CRM category along with "Highest User Adoption" for Sales Enablement.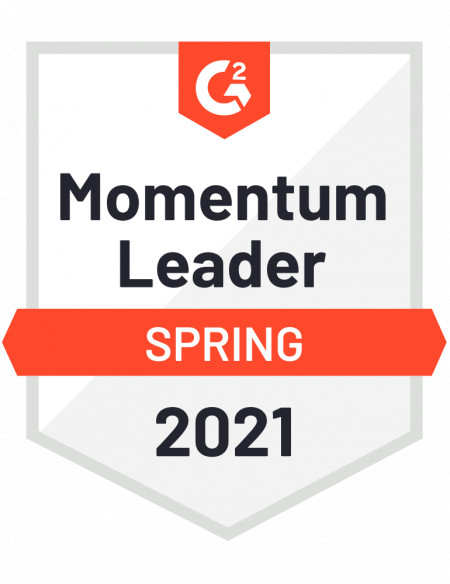 STOCKHOLM, April 9, 2021 (Newswire.com) - Membrain's growth and continued momentum of earning 4 and 5-star ratings by 96% of users have identified the company as one of the best Sales Enablement CRMs. With the mission to elevate the sales profession by building tools and partnerships that help companies make how they sell into a competitive advantage, Membrain challenges traditional CRM systems, where the focus is on data and reports, and not people and behaviors.
"It's great to see Membrain as a Momentum Leader on G2's Trending CRM Software grid. Our hard work to become the best Sales Enablement CRM for companies involved in complex b2b sales is paying off. Our mission to elevate the sales profession and challenge the status quo continues and we're proud to see our customers give us great reviews," says George Brontén, founder & CEO of Membrain.
By providing tools like customizable sales processes, dynamic playbooks, stakeholder management, and embedded sales enablement content, sales teams can drive successful behaviors and increase win rates by impressive numbers.
Membrain also allows companies to visualize their best customers in a "growth grid," use scorecards to replace emotion with evidence, and create informative and actionable account plans to grow with existing customers. Their slogan "How you sell is why you win" further emphasizes their mission to elevate the sales profession with software and services that guide and coach users, instead of making them into data-entry clerks.
Native integrations with Google Calendar, Office 365, Zoom, Slack, Teams, Active Campaign, Constant Contact, Hubspot, Mailchimp, Google Drive, Onedrive, Salesforce, OMG, Oneflow, Docusign, Zendesk, and thousands of other apps using Piesync and Zapier, ensure that the software plays nice with other software pages and apps used by companies.
To view how Membrain managed to rank this high on G2's Spring 2021 reports, visit Membrain's G2 profile here.
About Membrain
With clients in over 80 countries, Membrain is the award-winning Sales Enablement CRM for teams working with complex B2B sales. Membrain makes it easy for sales teams to execute their sales strategy to achieve consistent sales performance. The software provides sales professionals with continuous guidance through the entire sales process, while enabling sales leaders to coach their team to a higher level of performance. By continuously optimizing your sales execution, you elevate your salespeople to become your competitive advantage. Membrain has won multiple awards, including the Top Sales Awards, and is ranked as a Top Performer by G2 Crowd in four categories. For more information, visit www.membrain.com.
Source: Membrain