Meet eosONO: An EOS Block Producer Candidate
Press Release
-
updated: Jun 1, 2018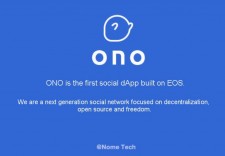 NEW YORK, June 1, 2018 (Newswire.com) - On June 2, 2018, an exciting day for the world of blockchain will come with the launch of the EOS mainnet. Recently, competition has been increasing in the race to become one of the 21 global Block Producers in EOS and now it appears that the entire blockchain space is scrambling to get involved. eosONO is a strong contender for being chosen as one of the top EOS Block Producers. ONO officially launched in mid-April, and is the first social media dApp to be launched on the EOS platform.
ONO is a decentralized social network ecosystem that leverages blockchain technology. In fact, ONO already stands out as a top-tier project in the global blockchain social media space. Out of more than 800 blockchain projects in China, ONO has emerged as one of the most promising and well-funded startups.
The core values contained in ONO's white paper are aligned with the core principles in EOS. ONO is committed to creating a democratic, self-governing community and ensuring all users can enjoy freedom and equality without having their data collected and sold the way platform providers like Facebook do.
Individuals are protected on the platform, and third-party developers will greatly benefit from the open-source platform due to high-performance operability. ONO is being designed to help everyone on the platform succeed at the fastest rate possible, and they also maintain that this aspect will never change.
Moreover, this might well explain the reason why ONO has gained rapid success so far among blockchain enthusiasts and traditional internet users. The ONO dApp (Chinese version) launched on April 15, and during this beta test stage, in just five days, over 52,381 users had registered and downloaded the ONO dApp. During this time two million pieces of content were shared and ONO had an impressive 65 percent retention rate.
In 2018, eosONO has been invited to multiple international EOS conventions and has built significant relationships with other EOS BP candidates. Ke Xu had already met with EOSeoul and been invited to join EOS BPC (Block Producer Candidates) conventions in Pangyo which were hosted by the largest Korean EOS community, KOREOS.
As strong candidates of EOS BP Asia, eosONO comes fully prepared. On the EOS Jungle Testnet, eosONO is named Alligator with solid infrastructure based in Tokyo. Along with HelloEos, EOSeoul and other BP Candidates, eosONO would likely be in the first group preparing to welcome the launch of EOSIO V1.0 and is excited to contribute to this great moment of internet history.
Converting traditional social networks via blockchain tech to decentralized ones is not only the biggest current trend, but also the inevitable trajectory of internet history. ONO always stands with people and is proud to contribute and witness this great moment of the launch of EOS. With eosONO's outstanding technological infrastructure and broadband capacity along with a rapidly growing user base, ONO is fully prepared to be a responsible and technologically advanced custodian of the EOS community. ONO welcomes this exciting moment with enthusiasm and optimism.
Media Contact: sparkpr@ono.chat
Source: ONO
Share:
---
Categories: Social Media, Internet
Tags: blockchain, eos, ke xu, ono, onot, social media
---