MediaMation's MX4D Esports Theatre Concept Wins the Support of Gamers During E3 Show
Esports theatre concept plans to amaze TCL Chinese Theatre, this Fall (with a global rollout to follow in 2018).
Press Release
-
updated: Jul 28, 2017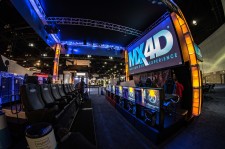 LOS ANGELES, Calif., July 28, 2017 (Newswire.com) - MediaMation, Inc., an award-winning technology and entertainment company, launched its turnkey MX4D Esports Theatre concept at E3 2017 in Los Angeles. E3 is widely recognized as the leading industry event in gaming and technology. Gaming enthusiasts in attendance were impressed by MediaMation's breakthrough MX4D Theatre to MX4D Esports Theatre concept.
Cinema owners are continually seeking new and technologically-advanced entertainment to engage patrons. MediaMation is planning to offer a scalable entertainment package that converts a new or existing MX4D theatre into an Esports gaming environment ... then back to the MX4D theatre setup.
Additionally, MediaMation announced its partnership with Hollywood Esports (HES). While MediaMation is responsible for the conversion of the spectating environment inside the MX4D theatre, Hollywood Esports provides the tournament organization and direction of gaming activities to global MX4D theatre sites.
During the E3 show, MediaMation's booth shook with intensity as onlookers watched players compete in live tournaments on stage. Spectators felt the on-screen action in their MX4D Motion EFX seats (directed by a live, on-site game jockey). Avid gamers in attendance described the MX4D eSport Theatre experience as "incredible" and "the seats made watching the tournaments feel like you were part of the game," noting, "just what Esports needs to bring it alive."
MediaMation's MX4D theatre adds sizzle to the sport - watch live tournaments at an MX4D theatre in a MediaMation MX4D Motion EFX seat synced to the fast-paced gaming action projected on the movie screen.
The MX4D theatre blends its motion and experiential factors with the intensity of Esports tournament play that forges a one-of-a-kind, theatre experience in the minds of the spectator. Then, when the Esports event is over, the MX4D theatre's Esports mode converts back into MX4D movie theatre mode.
A MediaMation MX4D Esports Theatre package includes foldaway tournament player stations, up to 12 side screens, competition-grade gaming technology, a game caster desk with special effects controls, and a full-scale, broadcasting booth utilizing digital video cameras and online streaming capabilities.
Hollywood Esports has partnered with MediaMation to handle all the Esports activities, marketing, and promotional management of Esport activities within MediaMation's network of global MX4D theatres.  
MediaMation's MX4D theatre coupled with high-grade, gaming technology combined with a convertible gaming setup, plus Hollywood Esports event management and marketing services is a turnkey solution that a cinema chain would need to host local micro tournaments. MediaMation and Hollywood eSports anticipates leading the "hometown" micro tournament trend by making eSports more accessible to local eSports fans through its network of over 200 MX4D theatres around the world.
MediaMation is expected to open its flagship MX4D Esports Theatre at the TCL Chinese Theatre in Hollywood, California, Q4 of 2017. MediaMation plans to extend their eSport concept utilizing its theatre base of over 200 locations in 2018 (eventually creating a network of MX4D eSport Theatres around the world).
The TCL Chinese Theatre will broadcast streams of local and major tournaments, weekly shows, celebrity engagements, collegiate tournaments, and game premieres inside their MX4D theatre.
This MX4D theatre concept is designed to create immersive spectating while watching Esports in a public setting among other Esports Fans. How arcades were the fad in the 1980s and the Internet cafe drew a young crowd in the early 2000s, the next generation of congregational gaming entertainment is the MX4D Theatre. The market for Esports and competitive video gaming continues to grow at an exponential rate. Analysts predict that the Esports industry will reach $1.5 billion by 2020.
"I am thrilled that the MX4D Esports Theatre concept was received so enthusiastically at E3 this year," said  Dan Jamele, CEO, MediaMation, Inc. Jamele continues, "Over the course of the show, we received tremendous feedback from gamers and spectators saying that they are looking forward to bringing our Esports theatre concept to cinema chains close to home."

About MediaMation Inc

For over 25 years, MediaMation, Inc. (MMI) has provided innovative and visionary technological solutions to the cinema and themed entertainment market. MediaMation is an interactive technology company and a leading supplier and manufacturer of patented 4D Motion EFX theatres and seat technology with over 200 installations worldwide. Additionally, MMI designs and implements creative solutions for complex shows, rides, exhibits, fountain shows, etc. for theme parks, zoos, aquariums, museums, cinemas and FECs.  From concept to design to installation, MediaMation continues to provide turnkey solutions creating state-of-the-art 4D theatres, Esports theatres and themed environments. For more information, visit www.mx-4d.com.

For press inquiries, contact Joey Leffel, Director of Marketing - MediaMation | MX4D, at joey.l@mediamation.com.
Source: MediaMation, Inc.
Share:
---
Categories: Amusement and Theme Parks, Venture Funding, Casinos
Tags: 4D, Alienware, Chinese Theatre, DXRacer, e3, eSports, Hollywood eSports, MediaMation, MX4D, Overwatch, Soylent, VainGlory
---