Mastry's Brewing Co. Provides Craft Beer Destination and Unique Experience on St. Pete Beach
Press Release
-
updated: Jun 15, 2017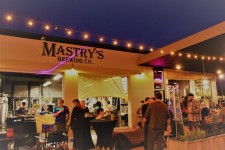 St. Pete Beach, FL, June 15, 2017 (Newswire.com) - St. Pete Beach's award-winning brewery, Mastry's Brewing Co., has become known as a go-to stop amongst the renowned collection of Tampa Bay breweries. The Mastry's Brewing Co. tasting room features 12-15 rotating house brews, guest taps, special release bottles, live music, food trucks, local food delivery, and almost weekly special events.
"We want to be a destination within the craft beer community; however, we also want to bring the local businesses and residents together, and provide an atmosphere and experience that appeals beyond the small-batch beers that we offer," said Matthew Dahm, CEO of Mastry's Brewing Co.
Lynsey Carlson, Founder of Treasured Chest Jewelry, who is a repeat Saturday Extravaganza market vendor and a regular Mastry's Brewing Co. patron said, "Mastry's Brewing Co. has been a great support to small business owners like myself. By giving me the opportunity to share my passion within the craft beer community, it has allowed me to connect with new people on a different level. I'm very thankful for the opportunity as a business partner and the involvement as a consumer."
With the goal of collaboration and the creative mindset to challenge expectations, Mastry's Brewing Co. is continually building the unique experiences they have to offer. The Saturday Extravaganza, a monthly market and block party held the 3rd Saturday of every month, will be expanding for the month of June. This Saturday, June 17th, 2017, Mastry's Brewing Co. will be partnering with Market Mafia for a special-edition Summer Solstice Extravaganza. This expanded event will feature both a day and night market, food truck, DJ, and an interactive fashion show.
According to Market Mafia co-founders Tara Britton and Kim Wallace Rydinsky, "If you want a laid back, yet classy craft brewery feel, Mastry's Brewing Co. is your hangout on St. Pete Beach. Market Mafia is beyond excited to have the opportunity to partner with Mastry's Brewing Co. on this innovative event showcasing the local community. We can't wait to help bring this idea to life on Saturday. As of now, we aren't aware of any other Tampa Bay markets that are celebrating the local artists and market fashions in this way during their events; this will truly be a unique experience for us!"
Both Summer Solstice markets will boast an intimate shopping atmosphere from local artists and boutiques. The fashion show will highlight looks carefully selected from boutiques across St. Pete Beach, Treasure Island, Madeira Beach, and Downtown St. Pete. In keeping with the Summer Solstice theme, the fashion show will take you on a journey from beach-by-day, to beach-by-night, for both his and hers.
Looking ahead to the future, for both the craft beer lovers and the neighborhood fans, Mastry's Brewing Co. will continue to push the boundaries. Mastry's Brewing Co. is currently working on a number of new small-batch and limited-release beers, along with multibrewery collaborations. Planning is also in progress for several new events, including family night, a food drive, the 1-year anniversary party and more.
To learn more about the vendors or day-of schedule for the Summer Solstice Extravaganza, please check here, or contact Val Youmans at contact@MastrysBrewingCo.com.
To learn more about upcoming beer releases, special events, live music, food trucks, etc., please follow along on social media to stay up-to-date.
Facebook: facebook.com/mastrysbrewingco
Instagram: @mastrysbrewingco
Twitter: @mastrysbrewing
Untappd: untappd.com/MastrysBrewingCo
For general questions, please contact Val Youmans at contact@MastrysBrewingCo.com.
About Mastry's Brewing Co.
Mastry's Brewing Co. was founded in 2014 as a brewpub operating out of a family-owned restaurant. In 2016, the operations were expanded, and now Mastry's Brewing Co. is proud to be the first craft brewery and tasting room on St. Pete Beach. Taking traditional styles and combining influences from exotic locales, Mastry's Brewing Co. is elevating the beach beer experience. With selections like JMC, a chocolate coffee porter, and the wildly popular, gold-medal winning Hefeweizen, locals and visitors continue coming back for more. Learn more at www.mastrysbrewingco.com.
About Market Mafia
Driven by their love for exploring local markets, their fascination with the talent of hand-crafters throughout the Bay, and the identified need for a one-stop-shop for locating them, the Market Mafia aims to create a network for locating markets big and small from Lakeland to Sarasota. The goal for Market Mafia is to establish a user-friendly resource for vendors, marketeers, and the greater Tampa Bay community alike. In celebrating the local businesses showcased at these events, Market Mafia hopes to support growth of the creative community. Learn more at www.marketmafia.com.
Source: Mastry's Brewing Co.
---
Categories: Music, Finance, Vacations and Travel, Restaurants, Bars, and Catering, Lifestyles, Beer, Destinations
Tags: art, beach, Craft beer, crafted, destination, experience, fashion, FLbeer, lifestyle, live music, local, small business
---