Master P's Sons, Hercy and Mercy Miller's, Household Cleaning Business Sells Out Online
Press Release
•
updated: Mar 20, 2020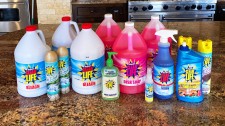 LOS ANGELES, March 20, 2020 (Newswire.com) - Over a year ago, the Miller Boys created a brand, Master Clean Life, of household cleaning supplies and sanitizing toiletries. The siblings partnered up with their father, Percy Miller, and older brother, Romeo Miller. They have been creating unique disinfectant and antibacterial cleaners that not only contain ingredients to remove soil and antimicrobial ingredients that kill germs but offer a unique variety of scents that leave a pleasant aroma versus a harsh strong stench.
Hercy and Mercy Miller are high school basketball stars, but off the court, they are young entrepreneurial bosses with a mission to give back with their product line. For every purchase of a Master Clean Life product, a percentage is spent helping inner-city youth attain higher education, as well as assisting the elderly with food, clothing, and medical needs. "My children have been taught the power of generational wealth and how important it is to give back. When they came up with this idea over a year ago, we had no idea all of this was going to happen, this was something they wanted to do. They came up with the plan, and Romeo and I looked at it and decided we would support their venture," said Percy Miller.
"When Mercy and I came up with the concept, we went to my dad and brother and pitched them the idea. They had us come up with a plan, and we begin to do research. When they realized we were serious, they agreed to give us the financial support we needed to start the company. They also gave us the tools and team to develop it," said Hercy Miller. Since last month, Master Clean Life products have been in high demand and have sold out their inventory to consumers. Every day, they are receiving requests on their back ordered products. For more information, go to www.MasterCleanLife.com.
Source: Master Clean Life