Martial Arts Tournament Coming to Eau Claire Indoor Sports Tournament Aug. 12.
Press Release
•
updated: Aug 10, 2017
Gustavson, Moniot to Compete in Final Tournament before becoming Masters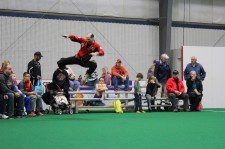 Eau Claire, WI, August 10, 2017 (Newswire.com) - The American Kyuki-Do Federation is gearing up for its annual Summer Tournament of Champions at the Eau Claire Indoor Sports Center in Eau Claire, Wisconsin, on Aug. 12.
With 128 competitors, ranging from age 3 to 60 and hailing from 14 academies, the tournament is sure to showcase some of the finest regional talents in the AKF. Competition categories include Weapons, Breaking, Forms, Sparring and Novice Grappling. The Black Belt competition begins at 8 a.m. while the opening ceremony will take place at 11 a.m.
The AKF has hosted the tournament in Eau Claire for more than 5 years and this year's event will mark the last year that Owner and Chief Instructor of the Federation's nearest academy, AKF Martial Arts Academy of Eau Claire, Chester Gustavson will be competing. Mr. Gustavson is preparing to test for is 5th Dan (Master) this November. As a Master, he will no longer be able to compete.
The same holds true for Mr. Joe Moniot of Lexington, Kentucky.
Both of these instructors will have a solid supply of students representing them at the tournament, as Mr. Gustavson's school is sending a Federation-high 26 students to compete while Mr. Moniot will bring 17 competitors with him from Lexington.
Other top competitor-producing academies for the Greatmats-sponsored Summer Tournament of Champions are located in New Richmond, WI (23 competitors), Amery, WI (13 competitors) and St. Croix Falls, WI (12 competitors).
The final American Kyuki-Do Federation tournament of 2017 will take place on Oct. 7. The 2017 Grappling and Throwing Tournament will wrap up the competitive season in Walworth, WI.
The AKF will highlight the year with its annual Black Belt Extravaganza Nov. 3-5 at the Kalahari Resort and Convention Center.
Registration is open for both the Throwing and Grappling Tournament and the Black Belt Extravaganza. A special AKF rate of $149/night is available at the Kalahari during the Black Belt Extravaganza weekend for hotel reservations made before Oct. 4, 2017.
Learn more about Greatmats-sponsored American Kyuki-Do Federation events and athletes.
Source: Greatmats.com
Related Media
Additional Links