Marktech Optoelectronics Introduces Its SERIES 4 Photodiode Process
Specifically designed for use @365nm (.22A/W) or in Blue/Green applications requiring very high sensitivity, low noise and long-term stability against UV and Gamma Radiation
Press Release
-
Jan 16, 2018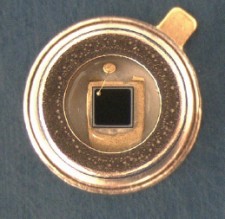 Latham, New York , January 16, 2018 (Newswire.com) - Marktech Optoelectronics, a Latham, New York-based manufacturer of standard and custom optoelectronics, has announced its new SERIES 4 photodiode process. SERIES 4 was specifically designed for use @365nm (.22A/W) or in Blue/Green applications requiring very high sensitivity, low noise and long-term stability against UV and Gamma Radiation.
These photodiodes are well suited for measurements in photometry or in analytical systems as well as for fluorescence measurements. In addition to measurements in the optimized blue and UV spectral range the photodiode can be used for measurements in the entire wavelength range between 300 nm and 1100 nm. Currently available from stock in two sizes 1.2mm² or 7.5mm² in hermetic packages, this process can also be used in our other standard sizes or can be made custom to optimize your application.
Please Visit Marktech Optoelectronics at Photonics West Booth Number 221. January 27 -  February 1 2018, The Moscone Center, San Francisco, California USA.​
For more information on Marktech's SERIES 4 photodiode process, visit www.marktechopto.com.
About Marktech:
Now celebrating its thirtieth year, Marktech Optoelectronics is a manufacturer of both emitter and detector sensors. Marktech maintains an on-site engineering and design team with years of experience in applications and product design. The company's only business is optoelectronics, and they take pride in their support capabilities, which feature a lab containing state-of-the-art test equipment, allowing Marktech to test and validate for all optical and electrical parameters. In addition to their sensor line, Marktech is a Cree Solutions Provider for their line of high-brightness LEDs and materials.
So, tell us: What do you want to build?
Bring Marktech your idea; we can manage the entire process for you, from design to prototype, from testing to production and QA. www.marktechopto.com
Source: Marktech Optoelectronics
Share:
---
Categories: Electronics
Tags: gamma radiation, high sensitivity, low noise, photodiode, SERIES 4, UV
---