Marktech Announces Custom Reticle Capabilities
One of the first optoelectronics companies to offer a 10-micron red dot reticle
Press Release
-
updated: Apr 27, 2017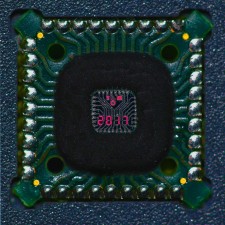 LATHAM, NY, April 27, 2017 (Newswire.com) - Marktech Optoelectronics, a Latham, New York-based manufacturer of standard and custom optoelectronics, has announced their new custom reticle display capabilities. This technology is used in applications, which include rifle scopes, binoculars, cameras, and range finders. All of Marktech's reticles include precise illumination for low-light environments and are highly customizable based on customer specifications.
Reticle: A series of fine lines or fibers in the eyepiece of a sighting device used as a measuring scale or an aid in locating objects.
The company has also introduced one of the first 10-micron red dot chips available on the market today. "For shorter distances, a standard 50- to 80-micron red dot is probably fine," explains Vincent Forte, Marktech's chief technology officer, "but for longer distances, a 10-micron red dot is preferred; the smaller the dot, the more accurate the device."
Marktech can design and manufacture a red dot and/or reticle in nearly any shape, size, or configuration, and this unique customization capability gives them an advantage in the industry. "We have the ability to create a reticle and/or red dot in conjunction with a 7-segment numeric or alphanumeric display and/or a 15 to 20-micron crosshair segment," notes Forte. "We can assemble the die into any type of standard or custom package or chip-on-board [COB] assembly. We can even custom-design a reticle to have the segment and dot independently driven, which is quite unique in the industry."
Devices that typically use red dots and reticles include telescopes, telescopic rifle sights, microscopes, cameras, binoculars, and other types of instrumentation. Range finders typically use a red dot and reticle in conjunction with an Avalanche photodiode (APD) as the detector, also available from Marktech.
The industries most often using reticles and red dots are military, technology, recreation, or anywhere that needs a microscopic illumination source.
For more information on Marktech's custom reticle capabilities, visit www.marktechopto.com.
About Marktech:
Now celebrating its thirtieth year, Marktech Optoelectronics is a manufacturer of both emitter and detector sensors. Marktech maintains an on-site engineering and design team with years of experience in applications and product design. The company's only business is optoelectronics, and they take pride in their support capabilities, which feature a lab containing state-of-the-art test equipment, allowing Marktech to test and validate for all optical and electrical parameters. In addition to their sensor line, Marktech is a Cree Solutions Provider for their line of high-brightness LEDs and materials.
So tell us: What do you want to build?
Bring Marktech your idea; we can manage the entire process for you, from design to prototype, from testing to production and QA. www.marktechopto.com
Source: Marktech Optoelectronics
Share:
---
Categories: Electronics, Electrical and Electronics, Optics
Tags: 10-micron, binoculars, cameras, custom, illumination, low-light, range finder, red dot, reticle, rifle scope
---