Mark Baratto, Head of Sales at the Wildly Successful Blockchain Shift Conference, Joins the Team Again for a Second Year
Press Release
•
updated: Jan 19, 2019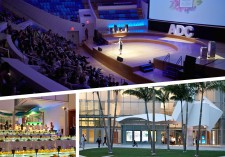 MIAMI, January 17, 2019 (Newswire.com) - Mark Baratto oversaw all operations and sales for the highly successful Blockchain Shift conference that took place on October 11-12, 2018 at the Mana Convention center; hosting more than 2800 attendees and sponsors including: tZERO, Alchemist, SeriesOne, IBM, Americas Execution, LLC, BitGo, CoinBoost, Securitize, Cohen & Co., Harneys, Empire Asset Management Company, Joseph Gunnar & Co, BBVA and Shutts.
​With Blockchain technology growing rapidly, we the team at Blockchain Shift feel that 2019's confidence will be even more impactful.
Watch the CNBC Interview of the Blockchain Shift conference here: https://www.youtube.com/watch?v=jjDUEVkDq8w
Mark Baratto also runs a successful consulting agency that has over 15 years of marketing and sales experience specializing in Psychological based Sales & Marketing, Story Creation, and Customer Acquisition. His expertise lies in understanding people's psyche, what motivates them, and the behavioral science behind what drives their actions - using 30 years of tested & proven persuasion principles. He provides proven psychological skills that help his clients capture the attention of their dream customer, turning them into life-long raving fans.
When he is not working with international clients, Mark Baratto is Head of Sales at WYSH.AI, the world's first artificial intelligence-powered messaging, payments and services platform for business that's quick and easy to implement.
Mark Baratto also co-hosts the one of a kind podcast with Movement Arts Specialist Cameron Shayne called The Budokon Mover Podcast: http://budokon.com/podcast
To contact Mark Baratto for more information, you can email him at Mark@launch6.com, or you can follow him using the links below:
Consulting Company: http://launch6.com
LinkedIn: https://www.linkedin.com/in/mark-baratto
​Instagram: https://instagram.com/markbaratto
Twitter: https://twitter.com/markbaratto
Facebook: https://facebook.com/markbaratto
About: https://about.me/markbaratto
F6S: https://www.f6s.com/markbaratto
Podcast: http://markbaratto.com
Source: Blockchain Shift
Related Media
Additional Links