Marihart Family Brings Parcel of Land to Life in Clovis
Press Release
-
updated: Jan 27, 2020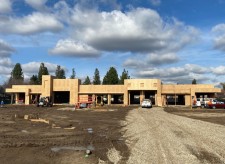 CLOVIS, Calif., January 27, 2020 (Newswire.com) - Marihart Properties, PC Solutions and 13 Prime Steak, all owned and operated by the Marihart family of Fresno, is bringing to life more than two acres of land situated near Peach Ave. and Herndon Ave. in Clovis.
With two successful companies already established in Fresno and Clovis, the Marihart family—John Sr. and his two sons, John D. and James—was eager to invest in a parcel of property and continue to expand the Marihart portfolio of businesses.
The wooden building frame you see now will turn into a 10,000-square-foot building where PC Solutions will relocate. After seeing year-over-year growth, the managed services provider needs a larger office, which will also create new jobs once the move is complete. The company will take 4,000 square feet of the building, leaving the remaining 6,000 open to lease.  
"PC Solutions has grown in the last 16 years to become the top IT company in the area," said John D. Marihart, PC Solutions' CEO and founder. "We've come so far, from literally starting the company in my garage to employing the best IT professionals and actively scaling our products for growth."
Phase two of construction will begin in 2021 and include a 16,000-square-foot building where James Marihart will manage day-to-day operations, and phase three incorporates plans for a restaurant. While the restaurant opening is approximately three years away, the concept will be a sister restaurant to John D. Marihart's 13 Prime Steak, where diners can expect high-quality food for breakfast, lunch and dinner.  
"As we've all seen, Clovis is booming and the future is bright for businesses in the city," said James Marihart, Managing Partner. "As each one of our buildings go up, more and more jobs will be created. I'm especially excited about the restaurant as it will be able to cater to surrounding businesses and nearby residents." 
Target Constructors, Inc., out of Madera, Ca., won the bid to complete the construction on the projects.  
About PC Solutions  
PC Solutions is a premier MSP based in Fresno, California, providing first-class IT solutions since 2004. The company offers a wide range of solutions dedicated to helping small, medium-sized and enterprise businesses unlock the potential of their technology. Their portfolio of IT services includes IT consulting, network solutions, backup and disaster recovery, and more. For more information about PC Solutions, visit their website or call 559-206-3423.  
About 13 Prime 
13 Prime Steak is a locally owned and operated prime steakhouse featuring American Regional Cuisine. Focusing on freshly prepared house-made recipes and fine quality ingredients, the restaurant is the perfect spot for a night out on the town. For reservations or to learn more, visit the 13 Prime Steak website. 
About Marihart Properties 
Marihart Properties' entry into real estate supports the Marihart family's current and future business expansion goals and provides lease space for other companies. For more information contact James Marihart at 559-825-3207.  
MEDIA CONTACT  
Tanya Osegueda 
tanya@oseguedapr.com 
559-917-6992
Source: PC Solutions
Share:
---
Categories: Information Technology
Tags: 13 Prime Steak, clovis, fresno, Marihart Properties, msp, PC Solutions
---