Marketopia Announces GROWCON Event Date - 2022's Premier Tech Marketing Event
Press Release
•
Jun 29, 2022
Global Marketing Agency's Conference is Back and Better Than Ever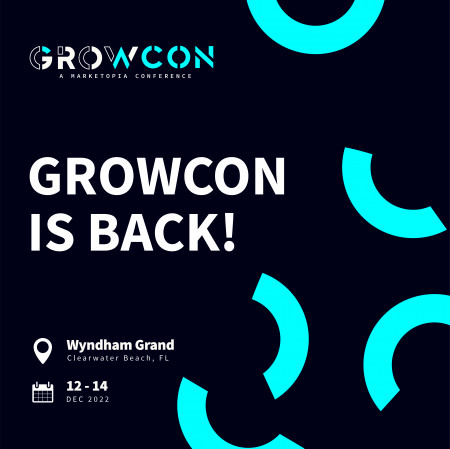 PINELLAS PARK, Fla., June 29, 2022 (Newswire.com) - Marketopia, the technology industry's premier marketing and lead-generation company, announced event dates for its annual technology conference. GROWCON is a dynamic IT conference for managed service providers (MSPs), vendors, and other technology companies looking to network, learn and grow. The three-day event will be held in beautiful Clearwater Beach, FL, at the Wyndham Grand Hotel, on Dec. 12-14, 2022.
"We're extremely excited to welcome hundreds of the most successful MSPs and vendors in the world this December," said Terry Hedden, CEO & Co-Founder of Marketopia. "What makes GROWCON such an extraordinary event is the fact that you're truly networking with the best and brightest in the industry. GROWCON is a tremendous opportunity for everyone in attendance to accelerate their growth and exceed their business goals."
GROWCON's casual yet upscale environment provides the perfect space to strengthen current relationships or build new connections. With twenty-plus featured sales and marketing sessions, MSPs will be able to gather the knowledge and tools they need to fulfill their dreams and achieve success. Vendor sponsors can also attend the event and learn while networking with growth-minded successful MSPs - all with a minimum target revenue of one million dollars. The live and virtual event will feature workshops, panels, cocktail connections, and other engaging activities on Clearwater Beach.
For more information on registration and sponsorship opportunities, visit www.GROWCON.com.
About Marketopia
Marketopia is the premier marketing and lead generation agency for the IT channel. We are uniquely positioned to serve the needs of software, hardware, and cloud vendors, distributors, MSPs, and VARs. With deep roots in the MSP world, Marketopia's understanding of the industry helps the company's lead generation, marketing, and sales training services stand apart from our competitors in delivering leads, sales, and profit. For more information about Marketopia and our proven demand-generation system, visit www.marketopia.com, call 844-482-4769 and engage with us on Facebook, LinkedIn, and Twitter.
Source: Marketopia