Make This the Year You Start Feeling Like Yourself Again
Press Release
•
updated: Jan 1, 2017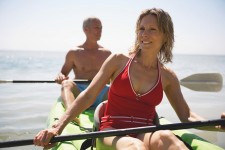 Honolulu, HI, January 1, 2017 (Newswire.com) - Elite Health Hawaii Hawaii's only "healthspan" company is focused on helping its clientele look and feel like they did in their 20's. Utilizing leading-edge testing to create highly individualized diet and exercise programs, Elite Health addresses all of the aspects of health and wellness.
"Our program is holistic and encompassing all areas of lifestyle, and individualized down to a patient's DNA. This is not a cookie cutter approach. No two people and no two programs will be the same," said founder and lead physician Dr. Scott Sanderson. "Specially after the holiday season of over indulging we see a spike in depression and sick days as people pack on an extra pounds. Being overweight can make people feel exhausted, and accelerates common symptoms of aging, but with our program they can get their lives back on track and even start feeling like they did in their 20's."
Elite Health Hawaii offers one of the only programs in the nation dedicated to expanding a patient's "healthspan." Healthspan is defined as the number of years a person lives at peak health.
"Our program utilizes testing protocols from the world's leading laboratories as well as a range of in-clinic examinations including body composition scans, VO2 max thresholds, and resting metabolic rate to form a comprehensive baseline for picture for each patient." Said Sanderson. "This becomes the foundation for the patient's nutrition and exercise plan. If a patient needs vitamins, minerals, or other supplements to support their goals and optimize their progress, we offers a wide range of pharmaceutical-grade supplements and hormone replacements to help them level out."
Make this the year that you start feeling like yourself again. Dr. Sanderson invites you to schedule a complementary consultation or to attend an upcoming seminar at the Plaza Club on February 6th from 5:30pm-7pm were attendees will receive a free body scan and hosted pupus. RSVP @ http://elitehealthhawaii.com/ ​
About Elite Health Hawaii
Elite Health Hawai'i is the only medical practice dedicated to increasing the "healthspan" of its patients. Utilizing leading-edge testing to create highly individualized diet and exercise programs, Elite Health is the only program in the state of Hawai'i that addresses all of the aspects of health and wellness. Elite Health Hawai'i is located at 900 Fort Street Mall #810, Honolulu, HI 96813. Phone: (808) 783-4104. eMail: info@elitehealthhawaii.com Web: http://elitehealthhawaii.com
Source: Wind On Water Communications, LLC
Related Media
Additional Links