Mailmylens is Offering Top-Quality Optical Products Online
Press Release
-
updated: Jan 8, 2018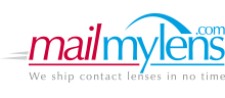 Noida,India, January 8, 2018 (Newswire.com) - Mailmylens is a company that sells a collection of genuine high-quality optical products ideal for both men and women. These include contact lenses, sunglasses, and eyeglasses available online at Mailmylens.com. It is a trusted manufacturer of pharmaceutical and intro ocular lenses. The products can be shipped internationally to USA, Europe, and other countries. Customer service is available on call for customers 24/7. Since its inception in 1903, the company has built an exceptional reputation for providing top quality eye care products at moderate prices.
"We believe that eyes are precious that is why we have partnered with the best online sellers. Mailmylens intends to give you a platform where you can shop for eye care products, whether it is for luxurious or medical purposes. We have been dedicated to the provision of best products for our clients. We understand that it is necessary to get the right prescribed product, that's why we verify the prescriptions with your doctor before shipping. The wide range of products has given us a better chance to avail your prescription for timely delivery. There are live agents to avail customer service for customers seven days a week, "said the company's Managing Director.
Mailmylens is among the leading brands of optical products manufacture. Among the product selection are the Bausch & Lomb contact lenses which can be ordered online at mailmylens. The online site gives product reviews that are unbiased; the information is accurate and can be relied upon. The company sells these contact lenses and other related products at affordable prices. An option for replacement of contact lenses is also available, at absolute no cost. All products are also backed up with a 6/6 guarantee.
"Get a trusted supplier for eye products whether to serve as an accessory or to enhance sight and life too. Replacing contact lenses is an easy and stress-free experience with us. Purchasing your prescribed eye products from the comfort of your living room has never been easier. We give great deals on every purchase, including discounts on selected packages. Customer satisfaction is of utmost importance to us, that is why we go an extra mile to deliver to your doorstep. Bausch & Lomb Toric Contact Lenses are the cheapest. The online site gives product reviews that are unbiased, the information is accurate and can be relied upon." Concluded the managing director.
All major Toric Contact Lenses are available online at Mailmylens.com. There is a full range of contact lenses that come with great features for absolute convenience. These include Air Optix for Astigmatism and Ciba Vision sells Air Optix at the best prices possible. These lenses have been highly recommended for stigmatism patients. Disposable Toric lenses are considered the healthiest and most convenient for people with an active lifestyle Also, they are safe to use. The lenses are consciously priced to ensure cost savings for the customers. Bausch and Lomb Toric Lenses Online at mailbylens.com have an additional free home delivery feature to cut on extra costs.
About mailmylens
Mailmylens is an online platform that has partnered with Bausch & Lomb to provide excellent eye care products at competitive prices. The products are both convenient and help save on time.
Source: Mailmylens
Share:
---
Categories: Fashion and Apparel, Lifestyles
Tags: Bausch & Lomb contact lenses, Bausch and Lomb Toric Lenses Online, Toric Contact Lenses
---