Mailmylens.com Offering Toric and Prosthetic Softlens Lenses at Nominal Prices
Mailmylens.com is a Noida-based online store that offers a wide range of lenses and frames to customers at the best prices.
Press Release
-
updated: Oct 15, 2018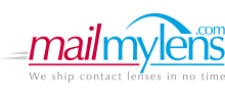 NOIDA, India, October 15, 2018 (Newswire.com) - As the name indicates, Mailmylens.com is an online store for eye lenses. It is held in high esteem for offering a wide range of high-quality, reliable and value for money eyeglasses and contact lenses. Not only does the range of eyeglasses, spectacles and contact lenses that the online store offers remain unmatchable to brick and mortar eyeglass stores but also the quality and prices. Not surprisingly, Mailmylens.com is increasingly becoming the first choice of customers who prefer buying things online.
With the intent to help customers know about the range of eyeglasses and contact lenses on offer at Mailmylens.com, one of the senior executives working with the online store stated, "We are committed to helping every customer who wants to buy quality and competitively priced lenses without much of hassles. No matter whether the customer wants branded eyeglasses, frames, lenses, designer sunglasses, contact lenses, special lenses and colour lenses or swimming glasses, we offer it all. The best part is we offer any of the products at reasonable prices." 
Based in Noida, Delhi NCR, Mailmylens.com makes genuine efforts and strives hard to ensure users get easy access to quality products at highly competitive prices. The online store is quite successful in providing customers with exactly the same glasses that a doctor has prescribed and delivers the order at the customer's doorsteps safe and on time. In addition to the large inventory and better distribution facility, the online store makes every effort possible to better the customer's experience of buying any kind of glasses online and win their accolades.
When asked about the price and availability of special toric contact lenses, the senior executive further stated, "Our range of lenses also includes toric disposable lenses. These types of lenses are convenient for users who want to wear lenses continuously. Toric lenses are simply the best for patients who have astigmatism. These are the patients who have the spherical as well as cylindrical power too. We offer Toric lenses in hydrogel and silicone hydrogel material, thereby giving customers an option to choose what suits their medical conditions the best."
Mailmylens.com also offers a wide selection of affordable prosthetic lenses, which are used as a mask to improve the appearance of a disfigured eye. These lenses are used to add more aesthetic value to the eye than giving it a better vision. In addition, these types of lenses help the wearer to block excessive heat and light from reaching the retina. Made of gas permeable or soft lens material, prosthetic lenses help in refractive errors like myopia, hypermetropia, Presbyopia and astigmatism. Therefore, those looking for cheap eyeglasses or want to buy prosthetic lens at competitive prices can get in touch with Mailmylens.com. 
About Mailmylens.com
Mailmylens.com is an online store for eyeglasses. The online store offers a wide range of eyeglasses, contact lenses and frames at highly competitive prices. Customers can find contact lenses, branded eyeglasses, cheap eyeglasses, designer sunglasses and swimming glasses at the online store. They can easily place an order and get it delivered at their doorsteps safe and on time. Therefore, for those who are looking for Bausch and Lomb Toric lenses at slashed prices, the hunt ends with Mailmylens.com.
Source: Mailmylens.com
Share:
---
Categories: Lifestyles
Tags: buy prosthetic lens, looking for Bausch and Lomb Toric lenses, looking for cheap eyeglasses
---