Magniflex has Created Dual Core Technology for Convenient Comfort with a Quick Zip and Flip
The Magniflex Dual Core mattresses consist of two separate cores that have plusher and firmer comfort.
Press Release
-
Nov 1, 2016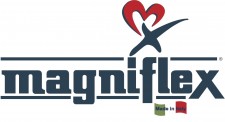 Miami, FL, November 1, 2016 (Newswire.com) - For over 50 years, Magniflex has been an innovator of comfort technology and their latest invention has continued their proud history of success.  It is a fact that nine out of every ten couples have a different idea of comfort.  All across the globe, this fact remains true.  Magniflex is keenly aware of this issue and has developed the Dual Core technology to deal with the problem head-on.  With two separate mattress cores in one single mattress, Dual Core technology allows these couples to change their sleep comfort in a matter of minutes.
Each Dual Core mattress is equipped with a zipper at the bottom that runs the entire length of the mattress perimeter.  Once the cover is removed, you will see the two separate mattress cores.  Each mattress will look different relative to the specific model.  For instance, the Cotton Grande Dual 12 of the Toscana collection contains Mallow Foam and Geomemory Aloe, both of which contain soothing, relaxing properties and lie on the top of each side.  The level of comfort however, is the differentiating factor. The plusher side features a thick layer with Mallow Foam on top of Geomemory Aloe, and is designed to softly embrace your body and gently accommodate its contours. The firmer side features a thinner layer made from Geomemory Aloe, thus creating a more supportive and firmer surface.
Billy Curtright is the National Sales Manager for Magniflex USA and had this to say about the Dual Core technology, "These mattresses have two separate cores of both comfort and support that can easily be adjusted by unzipping the mattress cover and simply flipping either of the inside cores.  It's just like a custom mattress without the wait or expense of made-to-order beds."
Historically, mattresses aren't known for their versatility.  The idea of having two different levels of comfort for the price and convenience typically found in one mattress, has been resonating with couples across the U.S. Magniflex mattresses also carry the prestigious Oeko-Tex Standard 100 certification, which confirms that they are free from toxic substances or any off-gassing and VOCs that may be harmful to you or the environment.  When it comes to sleep, we should never compromise.  After all, sleep is life's greatest pleasure.
Contact Information
Jim Sautter
​​Magniflex USA Ltd., Inc.
1-786-233-8805
infosocial@magniflex.us
www.magniflex.com
Source: Magniflex USA
Share:
---
Categories: Bed and Bath, Home
Tags: comfort, Italian made, mattress, sleep, technology
---