Lyon County Sheriff Named NSSC 2018 'Scot of the Year'
Press Release
•
updated: Feb 11, 2018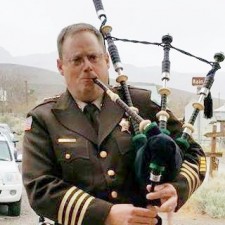 RENO, Nev., February 11, 2018 (Newswire.com) - Lyon County Sheriff Al McNeil received the Silver Thistle Award Saturday (Feb. 10), being named the 2018 "Scot of the Year" by the Nevada Society of Scottish Clans (NSSC) at its 37th annual Robert Burns Celebration at the Grand Sierra Resort in Reno with nearly 500 in attendance.
Nevada Society of Scottish Clans Past Chief Lowell Patton made the presentation to McNeil for his participation in law enforcement and veteran's affairs in Northern Nevada and his devotion to his country in a military career that spanned 21 years. The Nevada Society of Scottish Clans annually presents the Silver Thistle Award to recognize Americans of Scottish ancestry as the "Scot of the Year" for their outstanding service and significant contributions to the people and communities of Northern Nevada or Northeast California.
McNeil serves as the 20th sheriff of Lyon County. Since his election in 2014, crime rates in Lyon County for drug and violent crimes have declined, taking the county from one of the five least-safe counties in Nevada to one of the five safest, and without additional expense to the county. As sheriff, McNeil tries to instill Scottish values of family, community and liberty throughout the county. He recently published an article on the Second Amendment and its ties back to United States founding fathers of Scottish heritage. As part of his quest of all things Scottish and his Scottish heritage, McNeil taught himself to play the bagpipes following a trip to Scotland in 2010 and is a member of the Mason Valley Pipes and Drums. He is a member of the Scottish American Military Society, representing that organization at various activities and functions including playing the bagpipes for the Northern Nevada Veteran's Coalition and its monthly ceremony at the Northern Nevada Veteran's Cemetery in Fernley, as well as fulfilling veteran burial ceremony requests in Mason and Smith Valleys.
His career with the U.S. Marine Corps includes serving as a signal intelligence intercept operator with overseas tours of duty targeting the former Soviet Union in 1983 and the Nicaraguan Sandinistas in 1984. McNeil gained valuable counter-narcotics knowledge by working with Thailand's Marine Corps in the opium drug trade war in 1986 and the Peruvian Marine Corps' fight against the communist militant group Sendero Luminoso or "Shining Path" in 1994. He served as a platoon commander and platoon sergeant during three overseas deployments that included the rescue of U.S. Air Force pilot Captain Scott O'Grady who was shot down in Bosnia in 1995. Following promotion to master sergeant, McNeil was stationed in Japan from 1999-2000 where he served as the operations chief for the 31st Marine Expeditionary Unit and helped develop operational planning for 2,200 Marines and sailors. From 2001-2002, McNeil served as the operations chief for the Marine Corps Mountain Warfare Training Center near Bridgeport, California, overseeing the organizational planning of nine formal schools, 76 instructors and the training annually of approximately 12,000 students.
Following his retirement from the Marine Corps in 2002, he, wife Shannon and their five children moved to Mason Valley where he began his law enforcement career working for the Lyon County Sheriff's Office as a deputy sheriff.
McNeil holds dual Bachelor of Science degrees in Business Administration of Criminal Justice and Religion and is a member of the Clan MacNeil Association of America.
The Nevada Society of Scottish Clans is a 501(c)3 non-profit organization founded in 1982 that is dedicated to the perpetuation of ancient customs, literature, music, games and dress of Scotland and its people. The Nevada Society of Scottish Clans promotes Scottish heritage through the annual dinner honoring the memory of Scotland's national poet Robert Burns, sponsors Tartan Day, participates in Reno's Celtic Celebration, a summer picnic, Tartan Miniature Golf and other activities. More information about the Nevada Society of Scottish Clans is available on its website at www.nvssc.org.
For More Information: Nevada Society of Scottish Clans Chief Jackie Frady, (775) 843-2812
Source: Nevada Society of Scottish Clans