Lynx Innovation Names Vannin Gale as Vice President of Technology and Todd Black as Vice President of Global Operations
Press Release
-
updated: Mar 13, 2018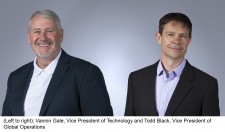 IRVINE, Calif., March 13, 2018 (Newswire.com) - ​​Lynx Innovation Inc., a Southern California-based global technology provider of innovative interactive displays, is pleased to announce the addition of Vannin Gale, vice president of technology, and Todd Black, vice president of global operations. These industry professionals are joining Lynx's outstanding team of people in developing the future of display integration, control and product experience through cutting-edge technology.
CEO Kurt McNall said, "Whether it is mobility, automation, voice control, connected home, audio-video or virtualization, Vannin Gale understands how these trends intersect. More importantly, he will leverage these shifts to deliver on premium customer experience and ensure Lynx's groundbreaking abilities continue to magnify."
Lynx has a long history and outstanding reputation for delivering custom, engaging solutions that enable consumer electronic brands and big-box retailers the medium to attract, engage and charm their customers. The road ahead is exciting and full of enormous opportunities to disrupt and change how the industry connects through technology. "I am happy to join the exceptional team of professionals at Lynx and be part of building on that history," said Vannin Gale, vice president of technology.
Prior to joining Lynx, Mr. Gale was director of engineering, R&D at Mophie where he led the engineering and cross-functional teams who released multiple profitable new product introductions. With 20-plus years of technical product management and R&D expertise, he has developed successful projects from concepts to launch through strategy and product road-map. As Lynx Innovation's vice president of technology, he is the subject-matter expert that key stakeholders will partner with to define product possibility and vision. Mr. Gale has 29 patents, won numerous awards including three CES Innovation awards, and holds a master's degree in electrical engineering.
Todd Black, vice president of global operations, brings over 22 years of executive operations experience with leading consumer technology companies. He is a licensed mechanical engineer and holds a master's degree in business administration. Mr. Black brings leadership to complex global end-to-end supply chain operations, with broad experience managing international teams and facilities. Most recently, he held the position of senior director, strategic supply chain, at FLEX Consumer Technologies Group, where he successfully developed new manufacturing footprints and supply chain optimization strategies in Mexico, Europe, Asia and the Americas. Mr. Black's strengths in solving complex supply chain challenges with cost-effective solutions will ensure Lynx's customers receive the very best product-based experiences by promoting a sustained partnership driven by shared objectives.
"I am thrilled to have an executive of Todd's caliber and experience join our executive team," said Allen Auchenpaugh, president and COO. "His excellent track record of developing operations strategies, in addition to elevating and scaling manufacturing processes across global sites, will ensure that we will always deliver the best product, on time, with the highest quality and backed by operation processes that ensure the best long-term return on customer investment."
"I am excited to join Lynx Innovation Inc., one of the premier interactive consumer electronics display manufacturers, during this period of strong momentum and great opportunity," Todd Black said. "I look forward to partnering with our customers to help achieve their vision for sustained customer engagement and delight, supported by a world-class Lynx operations team."
Through successful partnerships, Lynx Innovation has designed, manufactured and installed over 100,000 globally deployed displays. Using their experience of logistics, certifications and advanced technical knowledge needed for the diverse consumer electronics market has allowed Lynx Innovation to solely manage and operate global supply chain for large-scale production. Lynx Innovation's high quality of standards and forward-thinking designs mark them as the foremost expert in retail displays. The company's website (www.lynxinnovation.com) contains more information.
Media Contact:
Thoai Ha
Email: tha@lynxinnovation.com
Phone: 949-345-1849
Source: Lynx Innovation Inc.
---
Categories: Retail Technology, Production and Manufacturing
Tags: consumer electronics, digital displays, digital media, interactive display, point of sales, retail displays, sales, technology
---