Love is in the Air at Damiani Jewellers
Press Release
•
updated: Feb 5, 2021
February is the month of love because of Valentine's Day. This year, celebrating Valentine's Day involves showcasing some "Damiani Couples" - those who got engaged or married over the last year after they purchased their engagement rings, wedding bands, and bridal jewellery from Damiani Jewellers.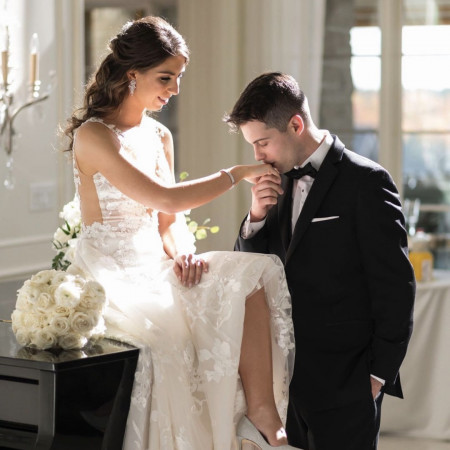 TORONTO, February 5, 2021 (Newswire.com) - 2020 was a year full of challenges and disappointment. Many couples had to postpone or cancel their weddings and special events. But in the end, love still prevailed. Here are a few of their stories:
Anthony & Marina
Anthony & Marina got engaged on May 30, 2020. Anthony set up a proposal themed around the movie "UP," complete with colourful balloons, a personalized mailbox, and an Adventure Book filled with tokens from their past adventures. Anthony and Marina cannot wait to fill the rest of the book with new memories!
Brandon & Laura
Brandon & Laura got married on Oct. 17, 2020, at the Arlington Estate in Vaughan, ON. COVID-19 almost ruined their plans, but they were still able to have a small, intimate ceremony and reception with their closest family and friends. Laura is the Damiani family's third generation to be working at the store, and the team at Damiani Jewellers was elated to take part in her & Brandon's special day!
Frank & Melissa
It was a Christmas gift that Melissa never expected! Frank popped the question on Christmas Eve, surrounded by their immediate family. Frank is one of the watchmakers and the Assistant Manager at Damiani Jewellers. All at the store are beyond excited for him & Melissa.
Joseph & Daniela
Just before the Christmas holidays, Joseph planned a private evening for him & Daniela. He surprised her with the ultimate gift—an engagement ring and a lifetime together! The two look forward to celebrating their union with their friends and family in the future.
Matthew & Alexandria
On Aug. 14, 2020, Matt & Alex decided to have their first fancy date night post-lockdown. They got dressed up to go to a local restaurant and share their favourite pizza. Little did she know that Matt had planned a proposal. Alex never ended up getting her pizza, but she did get that ring from the love of her life!
Nhorlan & Carmela
Nhorlan & Carmela got married on Oct. 17, 2020, at the Doctor's House in Vaughan, ON. Due to COVID-19, they, unfortunately, had to reschedule their reception to a later date. Yet they were still able to keep their original wedding date as planned. They had a small ceremony with their closest family and friends.
Raphael & Melissa
Raphael & Melissa got engaged on Dec. 29, 2020. Melissa was led to believe that she'd be spending the day helping Raphael's sister with a photoshoot for her company. In the middle of the shoot, Raphael surprised Melissa by getting down on one knee.
Congratulations to all the couples that celebrated their love this past year! The Damiani Jeweller's team is so honoured every time customers choose our store to be a part of their love story.
Source: Damiani Jewellers