Louisiana Woman Joins Husband as World Jiu Jitsu Champion, Both Train Over Greatmats
Press Release
•
updated: Jan 4, 2018
Gracie United-Team Jucao South Co-Owner Brea Ellwanger Earns No Gi World Title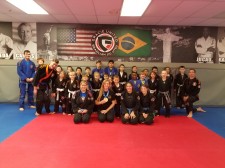 MILLTOWN, Wis., January 4, 2018 (Newswire.com) - A lifelong fan of boxing and judo, Brea Ellwanger found Brazilian Jiu Jitsu to be a perfect fit when a friend invited her to a BJJ seminar. Nine years later, the now 36-year-old has become the second BJJ World Champion in her house.
''(2013 IBJJF Black Belt Master 2 World Champion) Professor Rafael Ellwanger is my professor and has been from the beginning,'' Brea said. ''He is also my husband, but we try to keep that separate.''
All I saw was my husband smiling and cheering, and it was just the greatest feeling ever.

Brea Ellwanger, Jiu Jitsu Competitor
Entering the IBJJF 2017 World No-Gi Jiu Jitsu Championships on Dec. 16-17 in Anaheim, California, Brea had already won a Pan American and European Championship and had come close to a world title five times before when she emerged as a medalist each time.
''I love the feeling of being in that moment,'' she said about competing. ''It is a huge adrenaline rush!''
She knew she had what it would take to become a world champion, noting that her previous attempts were cut short by ''making silly mistakes and struggling with my nerves.''
Championship Performance
So, in preparation for the 2017 No Gi Worlds, Brea worked on managing her nerves and switched her training from primarily training in a Gi training to No Gi training.
This outing would be a bit different, however, as the Master 2 medium-heavyweight competitor lacked competition in her age and weight class and was bumped into to the Master 1 heavyweight class. Fighting for team Jucao, Brea was paired up against Theresa M. Swift Grace of Cleber Jiu Jitsu and Maggie J Ghamry of Big Brothers, and, when all was done, she found herself at the top of the podium with that elusive gold medal around her neck.
''I really can't put that into words. I might have danced,'' she joked. ''When the referee raised my hand, it seemed like everything just stopped for a minute. All I saw was my husband smiling and cheering, and it was just the greatest feeling ever. As my professor and husband, he has been there every step of the way. It was a great moment that I will cherish forever.''
Owner and Coach
Practically living in the gym that she and Rafael manage together - Gracie United-Team Jucao South in Ponchatoula, Louisiana - Brea loves rolling on their Greatmats Grappling MMA Mats so much, she has taken on teaching duties over the last two years as head instructor for the women's and children's programs.
''It has been the best time of my life,'' Brea said of her teaching experience. ''We have such an amazing team, and I love being able to share something that I am so passionate about with others. Jiu-Jitsu is special in the way that it brings people together, and I hope to be able to impact others the way so many people have impacted me. I can not imagine my life without it!''
Source: Greatmats
Related Media
Additional Links