Los Angeles Based Vape Juice Company Develops New Tech for Vaping Industry
Press Release
•
updated: Nov 1, 2018
Pushing the vaping industry standards to a higher level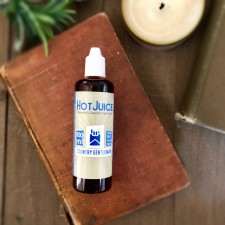 LOS ANGELES, November 1, 2018 (Newswire.com) - Finding and acquiring good quality e liquids are paramount to a satisfying vape experience. There's no point in using e-cigs with e-juices that lack flavor and consistency. A new Southern California company named Hot Juice aims to solve that by providing a variety of different vape flavors at affordable price points. Hot Juice carries all sorts of e liquids that range from favorite breakfast cereals to mouth-watering pastries and dessert vapes.
The wide assortment of flavor profiles Hot Juice carries makes them a very hot commodity amongst religious vapers. If delicious vape flavors are being searched for, that are both high quality and budget-friendly, Hot Juice is usually on the top of the list for tens of thousands of Vapers. It's No wonder their presence as a reputable online e juice seller has been continually growing day by day because of the effort Hot Juice puts into making their e liquids.
Having an impressive collection of flavors doesn't matter if the quality and flavor isn't up to par with the customers vaping experience says Hot Juice Founder and CEO Jon Deak - We focus on crafting our e juice that delivers consistent flavor and meets the highest standards that our thousands of customers have come to expect. Which is why we developed the MBFI system also known as Micro-Bubble Flavor-Injection to create enduring and long-lasting flavors. Each flavor compound is fused together with each particle of e-juice using our new MBFI system

Jon Deak, CEO
Hot Juice allows anyone to choose the preferred nicotine strength and VG/PG blend according to personal tastes. This way, their flavors can be enjoyed just the way a customer likes it. No matter the flavor, the nicotine strength, or the VG/PG blend, they have something for every vaper out there to keep their cravings satisfied
Development Of The MBFI System
Let's talk about the e-juice quality of Hot Juice's products. They carefully select their ingredients that are locally sourced from Southern California so they have direct control over the quality of their e liquids. By doing this, they're able to craft delicious flavors that are well-rounded and on-point when it comes to the taste.
Hot Juice has tested almost 100 competitive brands. Their primary focus was to test flavor longevity. The first thing they noticed was a significant loss of flavor throughout their vaping experience.
After further testing, the Hot Juice team concluded that their competitor's flavor compounds were being separated from the propylene glycol and vegetable glycerin mixtures. This is what led the team to develop the MBFI system also known as Micro-Bubble Flavor -injection. With this system, Hot Juice is able to inject flavor into every particle of e juice. There is a final secret to Hot Juice's success and that is to increase their flavor profile by 30% compared to other leading brands on the market today.
"Increasing the flavor profile by 30% isn't exactly an inexpensive business decision. This increases our cost per bottle significantly however our customer retention is through the roof and also our customer satisfaction is at 97% which makes it all worthwhile" - Jon Deak CEO.
Manufacturing CBD Vape Oil and Ejuice Under One Roof
Hot Juice is also the first company in America that is officially manufacturing CBD Vape Juice and Ejuice under one roof in Los Angeles California. They have been applying their vast knowledge of E-Liquid flavor blends and applying it to creating some of the most delicious and potent CBD Vape-Oil on the market.
Hot Juice offers their CBD Juice in a variety of milligram levels which can range from 200mg to 5000mg. They use only the purest CBD Isolate that is free of any THC. If guests of the website wanted to know if CBD vape juice would give them a high, the answer is that since Hot Juices' Isolate does not contain THC, there is no way anyone could get high from vaping it.
E-Liquid Flavors Made For Enthusiastic Vapers
Hot Juice is making their mark in the vaping industry as one of the most reliable sources of quality e-liquid online. Their website is easy to navigate and they deliver such amazing quality at affordable prices. Not only are their flavors highly accurate, but customers also get to customize their vape depending on what nicotine strength they want. They also allow customers to choose the VG/PG ratio if they want more flavor or more vapor.
Having 60 different quality flavors sounds like heaven for the ears of enthusiastic vapers who have adventurous tongues. Hot Juice definitely knows a thing or two about crafting e-liquid vapes that are consistent in flavor from the inhale all the way to the exhale. Their fruity flavors are perfect as an everyday vape and their coffee and beverage juices are great for relaxing on early mornings.
Their candy vapes are also great if the craving is for some sugary treats. Giving their flavors a try will reveal why more and more vapers are enjoying their e juices.
Over 60 Different Vape Juice Flavors!
Hot Juice's collection of 60 different flavors immediately stand out from a vaper's point of view. The myriad of choices they offer is enough to keep any vaper's cravings at bay. Fancy a refreshing vape on an early Sunday morning? Try out their sweet tea and rainforest punch to quench a big thirst. How about sweet pastries and desserts? Their fudge brownie pie and peach custard cream vape juice will certainly fill any hunger up. In total, they have 9 different flavor profile categories for taste buds to explore.
Everyone will love their coffee vape juice blends. Imagine pouring a favorite Mocha Frappe directly in a vaporizer tank. The flavor is incredible! Once people try out their other juices, it'll really blow their minds on how accurate their flavors are! Aside from everyday vapes such as fruity vapes and candy treats, Hot Juice also offers unique flavors like carnival kettle corn, cloves, and even bacon bits! If someone's looking for something different, they have to give these flavors a try and see how they taste! They also carry tobacco and menthol vape juice too.
Age Restricted Website – Sales To Minors Prohibited
All purchases on Hot Juice's website are age restricted and customers must be of legal smoking age to purchase Hot Juice products. In some states that can be 18 years old and other states, it can be 21 years old.
While Hot Juice believes that responsible adults should be able to enjoy the vast flavor selections offered, they also firmly believe that children should not be able to purchase these products. The company has gone through great lengths to make sure that an Age Verification check is processed with every purchase.
Hot Juice also makes certain that all of their bottle designs and the overall appearance of the website is very professional. They have gone out of their way to make sure none of their packagings attracts children and that all products have the correct and required FDA labeling practices. In other words, Hot Juice doesn't want money from any child and they will do everything in their power to make sure no underage purchases go through.
If you would like to learn more about this new exciting company you can visit the Hot Juice Website.
Contact Information
Jon Deak - CEO
HotJuice.com
Press@HotJuice.com
Toll-Free: 1-877-835-8423
Source: Hot Juice
Related Media