Long Island Owners Forum Brings Awareness to Local Business Market Needs
​A Massive Success at the Long Island Owners Forum. The second major Owners Forum in New York, bringing together more than 80 high net business owners, internationally-recognized keynote speakers, and top-tier advisors.
Press Release
-
Aug 1, 2016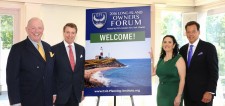 New York City, New York, August 1, 2016 (Newswire.com) - The Exit Planning Institute™ of Greater New York hosted its second Owners Forum in Long Island, New York on July 26, 2016 at the Fox Hollow, delivering a half-day event fully dedicated to providing awareness and education to major business owners in the Long Island market that they can use to grow their business and maximize their market value as these business owners approach their professional exit.
The heavy-hitting keynote lineup was motivational and impactful, with speakers like Peter Christman, bestselling author and Co-Founder of the Exit Planning Institute, Dr. Tom Deans, bestselling author and Intergenerational Wealth Expert, and Tildet Varon, an author, speaker, and well-being specialist.  Business owner attendees were engaged and enlightened, as the experts shared concepts and literal techniques owners can use to prepare for transition.  "I know now that I need to get my act together," said one attendee as he got his book signed by Dr. Deans.
"The Forum helped these business owners understand the need to put a plan together," shared Mark Kravietz, Managing Director, Partner at HighTower and Chairman of the Owners Forum, "or be exposed to potential consequences."  Deans demystified the myth of gifting a business to your kids, which he positions is "the worst decision an owner can make."  Christman tells it like it is, speaking to the concepts of a balanced third act, focusing on Master Planning and the three legs of the stool (business, personal, and financial).
As evident in the vast amount of recent research studies, including the State of Owner Readiness™ Survey, the U.S. landscape is set to transition six million businesses over the next 5-10 years.  Baby Boomer business owners are reaching retirement at a rapid rate, and these same owners own 66% of all companies in the U.S., it has been indicated that the majority have not accounted for their ultimate exit transition.  This means that they are not prepared and will very likely fall subject to the statistic "only 2 out of 10 businesses that go to market sell" and run the risk of getting a lower price for their business than they need or even worse, won't sell at all.  With 66% of businesses coming to market over the next ten years, the economic implications have never been higher and the need for Baby Boomers to be proactive in their approach is key to seeing these valuable businesses change hands and keep them from closing their doors.  This is a nationwide reality and the Owners Forum is an event to provide awareness and resources to those that will ultimately move the landscape of the local and U.S. market.
The Owners Forum was offered by the Exit Planning Institute, the global authority in value acceleration, and led by Mark Kravietz, CEPA, of HighTower and an elite group of expert exit advisors from the local Long Island market. It is an exclusive event that delivers thought-provoking, honest, action-creating information directly to owners, changing the way business owners think, aiming to ensure the local business market transitions from one generation to the next successfully.
The Long Island Owners Forum was a massive success and we'd like to thank our partners, particularly Silverman Acampora, who conducted a regional State of Owner Readiness quiz that will be released soon to illustrate the exit readiness of the Long Island business market, and all attendees for learning what it takes to see your business through its transition and bringing exit planning into the present.
For more information on the Long Island Owners Forum, visit www.NYCOwnersForum.com. 
Source: Exit Planning Institute
Share:
---
Categories: Risk Management, Mergers and Acquisitions, Business Finance
Tags: CEPA, Entrepreneurs, Exit Planning, New York, Owners Forum
---
Related Files
Additional Links