Local Veteran, Glenn Smith, Will Be Given a Bathroom to Say 'Thank You' for Serving Our Country
Reborn Bath Solutions joins forces with ten home improvement companies nationwide on Baths for the Brave initiative
Press Release
-
updated: Nov 5, 2018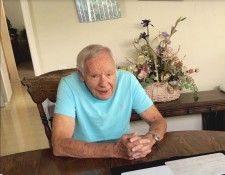 ANAHEIM, Calif., November 5, 2018 (Newswire.com) - ​This Veterans Day, Reborn Bath Solutions, Southern California-based home remodeling company specializing in bathrooms and kitchens and a division of Reborn Cabinets Inc., is teaming up with ten home improvement companies from across the country on an initiative called Baths for the Brave. This one-day special event is planned for Thursday, Nov. 8, and will provide 10 veterans from across the country, including Glenn Smith from Orange, California, with a brand-new tub or shower system, free of charge, to help improve the lives of those who sacrificed so much for our country.
Glenn Smith was enlisted in the Air Force and served from November 1954 – November 1956. He was stationed in Clovis, New Mexico, now known as Cannon Air Force Base. Glenn had a dream to be an airman but his dreams to fly were shattered when his vision wasn't strong enough to be airborne.
Not one to let a setback keep him from pursuing his purpose, he took the role of being an officer and a gentleman to a new level. Known for his excellent character, communication, and being an encourager, the 23-year-old was promoted to 2nd Lieutenant and led a team of 20.
Smith recalls those days of service as "being hard times" as the F-86 was just being released and 13 pilots lost their lives including his neighbor, a 36-year-old General who died while trying to land a test plane at Clovis. His commitment to keeping morale up during tough times landed him in a coaching position for the Air Force Base's Volleyball and Basketball teams, where he was able to use competition and team comradery to help his fellow enlistees navigate the pain of war time losses. His passion for service continued as he served as a Reserve for 8 more years.
Fast forward to the present, Smith shared with Reborn Cabinets how losing many of his financial resources while caring for his late wife of 43 years who lost her battle to dementia changed his life. Losing a partner after a lifetime of love and memories is a huge obstacle to overcome, but being the encourager he is, he presses on. He fondly looks back at all the good memories and wouldn't change any of it. He built a legacy of perseverance and leadership for his 3 children, 16 grandchildren, and 2 great-grandchildren. No matter what happens in life, character is something no one and no war can take from you.
Reborn Cabinets salutes Glenn Smith for his service and commitment and is honored to present him with a new bathroom.
This year, Reborn Cabinets, along with the other ten home remodeling companies, will be posting the Baths for the Brave crash live all day on Facebook and Instagram.
Facebook Link: https://bit.ly/2ESIV95 
Instagram Link: https://bit.ly/2CT9EzL
About Reborn Cabinets
Reborn Cabinets is family owned and operated and provides complete kitchen and bath remodeling, signature refacing and one-day bathroom solutions throughout its six locations in California and Nevada. Reborn Cabinets also manufactures these products in its state of the art manufacturing facility located in Anaheim, California. Reborn Cabinets provides complimentary in-home consultations to help each homeowners' specific needs. More information about Reborn Cabinets visited our website at www.reborncabinets.com
Facebook | Twitter | Instagram
About Baths for the Brave
Baths for the Brave, a special event and partnership between nearly a dozen home improvement companies nationwide, provides veterans with newly remodeled baths or showers in an effort to improve their lives by making their bathrooms more accessible. This year's remodels will take place for veterans across the country simultaneously on Thursday, Nov. 8, 2018, with parts of the installs captured in real time via Facebook Live. More information on Baths for the Brave is available at www.bathsforthebrave.com.
Facebook | Twitter | Instagram ​
Media Contact:
Edna Lozano
Director of Marketing
Phone 714-678-2365
Mobile 626-622-3901
Elozano@reborncabinets.com
Source: Reborn Cabinets
---
Categories: Home Improvement and Renovations
Tags: Bathroom, Giving back, Veterans
---