Local Lansing Man Inspires Rocky Drago Spin-Off
Press Release
•
updated: Jun 9, 2015
If it wasn't for Lansing resident Rick German, the Rocky spin-off titled "Drago" may have never been made.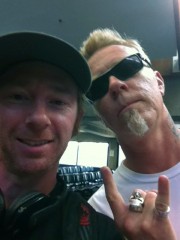 LANSING, MICHIGAN, June 8, 2015 (Newswire.com) - Growing up in the 80's, the cold war loomed over America. Movies like War Games, Red Dawn, and Top Gun fueled the Russian scare. But it wasn't until after Captain Ivan Drago was defeated that Rocky Balboa convinced both Russian's and American's alike, that "everybody can change".
Before writing Drago, stay at home father Andrew LeMay, honed his skills by making video's for his children on YouTube. Thirty two million views later, and with the confidence instilled by his childhood friend and coach, Andrew no longer feared that he could not change.
When (Rick) invites you to 'Knock this out!' or 'Rock on, we got this!', than you know you're a Ninja like him!

Andrew LeMay, Screenwriter
"If you know Rick, you know you're not alone." LeMay says "When he invites you to 'knock this out!' or 'Rock on, we got this!', than you know you're a Ninja like him!" LeMay has been pushed to do better by German more frequently due to their involvement in the Rocky mythos.
"Who doesn't want to see a movie about Ivan Drago?" flirted Rick. "Andy (LeMay) mentioned the idea lightly, but I wouldn't be much of a friend if I didn't encourage him to write this." German is currently employed at Michigan State University, who's famous alumni include: Sam Raimi, Michael Moore, and James Caan.
Drago brings new faces together, while weaving fresh scenarios into Sylvester Stallone's beloved characters. Although Ivan Drago killed Apollo Creed on accident, his Death From Above moniker follows him throughout the film, and for good reason.
###
Questions for Rick German call: (517) 230-8310
Contact Andrew LeMay about the Drago screenplay through email: andrewlemay@hotmail.com or Twitter: @andrew_lemay
For more information about the Rocky Franchise, contact Lynn Hendee at Chartoff Productions: 1(310) 319-1960
Related Media
Tags
Additional Links