Local 'Climate Walkout' is Happening This Friday, Inspired by the Worldwide Youth Movement to Fight the Climate Crisis
Sullivan Solar Power to host a North San Diego event open to the public
Press Release
-
updated: Sep 18, 2019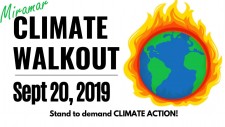 SAN DIEGO, September 18, 2019 (Newswire.com) - This Friday, Sept. 20, 2019, will be a legendary day in the fight against the climate crisis. Students and schoolchildren are mobilizing all over the world to walk out of their classrooms to show adults and politicians how serious they are about the future of our planet. San Diego 350, a nonprofit dedicated to putting an end to fossil fuels, is taking the lead in organizing walkouts in conjunction with these efforts. Sullivan Solar Power is combining forces with the nonprofit, inviting University of California San Diego and Miramar College students to speak at the Miramar Community Walkout, open to the public. These youth activists are calling on parents, workers and all concerned people to walk out of their respective workplaces and gather together in a united front to demand the switch to renewable energy.
"I want you to act as you would in a crisis. I want you to act as if our house is on fire. Because it is," said 16-year-old Greta Thunberg, the leader of this worldwide youth movement.
Her actions have been the catalyst of these strikes after she stood in front of her own Swedish parliament every Friday starting August 2018, protesting the governments' lack of movement on the climate crisis. Her efforts were recognized and multiplied as thousands of schoolchildren organized strikes by the end of 2018, following her example.
Now, Thunberg is taking it a step farther by rallying the rest of the population to her side. The Guardian posted an article in May 2019 publicizing her pleas for adults to join the September 20 walkout.
Sullivan Solar Power has participated in many rallies for renewable energy and wholeheartedly supports the end of fossil fuels, often lobbying for change in local government policy. In solidarity with Thunberg and the youth of the world, all schools, businesses and interested parties in the area are welcome to join the Miramar Community Walkout at 8949 Kenamar Dr. in San Diego from 12-1 p.m. This event is free and open to the public. Parking available onsite.
"We are proud to support our youth in the fight of their lives, ending fossil fuel consumption for a brighter future," said Daniel Sullivan, founder and president of Sullivan Solar Power.
If Miramar is not a convenient location for you, find your nearest walkout here: www.climatewalkoutsd.org/find-your-walkout.
Source: Sullivan Solar Power
Share:
---
Categories: Alternative Energy
Tags: clean energy future, climate crisis, climate emergency, climate strike, strike, youth movement
---