Livin' Well Announces New Line, Extension of Indoor Outdoor Pest Control Devices
Bug zapper and owl decoy use lights and sound to defend against birds and bugs
Press Release
-
updated: May 30, 2019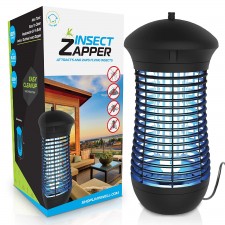 BELLEVUE, Wash., May 30, 2019 (Newswire.com) - This time of year, families across America prepare for patriotic holidays, graduations and summer picnics. The stage is also set for the peak season for mosquito and insect activity. To keep the focus on parties, not pests, Livin' Well, one of the top home goods sellers on Amazon, announced this week the launch of their new bug zapper indoor and outdoor lamp and solar-powered owl bird deterrent. This extends Livin' Well's wide range of pest control products, including solar-powered lawn stakes, ultrasonic plug-ins and reflective holographic owls.
The 4000V high-powered bug zapper lantern provides lighting while killing mosquitoes, flies, bees and moths. The 18-watt UVA bug zapper bulb lasts for 8,000 hours and serves a 1,500 square foot area. The UVA light attracts bugs away from food, people and living spaces, and the galvanized steel grid traps insects while the light zaps them. The removal tray at the bottom of the bug zapper is an easy way to clean the electronic mosquito killer.
Livin' Well especially designed the versatile bug zapper with a firm base to set on a tabletop and a steel hook so the insect zapper can hang in an indoor or outdoor space like a patio, garden or porch. The convenient 13-inch size has made this mosquito zapper an essential for summer cabins, camping, glamping, RVs and seasonal cottages. No camping checklist is complete without this fly zapper.
Livin' Well electronic bug zappers are available on Amazon with Prime shipping available.
Looking for a non-electric pest control device? The Livin' Well solar-powered owl decoy scares away birds with its flashing eyes and scary alarm sound that can be switched on or off. The motion-activated plastic owl acts as a scarecrow to deter birds from nesting, pecking and making a mess on your house, car, patio and other outdoor spaces.
Owls are a natural pest predator. Therefore, this 15.5-inch tall, life-like owl statue for bird control is a highly effective deterrent against woodpeckers, pigeons, squirrels, rabbits, mice, geese, chipmunks and more. Livin' Well recommends placing the owl decoy near awnings, eves, carports, gazebos, porches, pools, patios and gardens. The pest control device comes with E-Z pivot anchors and mounting brackets to secure the owl statue to an optimal location. These owl-scarecrow, bird-scare devices have a 5-ft. bird control range. The motion-activated fake owl charges with the sun for continuous solar-powered coverage. When used in low-sun areas, AA batteries can be installed as back-up power.
Owl bird deterrents are available on Amazon with Prime shipping available.
These pest control devices from Livin' Well will help keep your green spaces defended against pesky bugs, birds and rodents. To view the complete line of Livin' Well pest control products, visit their Amazon storefront.
########​
About Livin' Well:
Livin' Well is a brand owned by Kaliber Global, a top-tier Amazon seller and the fastest-growing retailer in Washington State (Inc. 500, 2017). They are a locally owned family business based in Bellevue, Washington that specializes in launching fun, innovative products on the Amazon Marketplace since 2012.
Contact:
Amber Norell
Marketing Manager, Livin' Well
407-432-0522
amber@kaliberglobal.com
Source: Livin' Well
Share:
---
Categories: Gardens and Landscape
Tags: bird control, bird deterrent, bug zapper, bug zappers outdoor, fake owls, garden owl, mosquito trap, mosquito zapper, mosquito zappers, owl decoy, scarecrow owl, solar powered owl
---