LIQWID® Launches ad.Inject, the All-in-One Tag Monetization Solution for Digital Publishers Making All Ads Viewable
LIQWID doubles down with its launch of ad.Inject, a plug and play technology to expand the market of premium viewable inventory.
Press Release
-
updated: Nov 16, 2016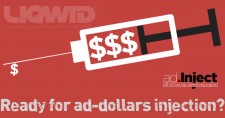 Las Vegas, NV, November 16, 2016 (Newswire.com) - Nominated for Edison Awards, LIQWID, a LeftsnRights Inc. brand, launches ad.Inject, the all-in-one tag-advertising engine enabling publishers for an entirely incremental revenue via programmatic and traditional media demand based exclusively on viewable ads, overcoming limitations of the inventory defined by ad slots and subject to the "fold".
Different from DFP and the Prebid.js header bidding tag approach, LIQWID ad.Inject does not rely on Google's DFP (GPT) "ad slots" predefined manually in the markup of the webpages. Instead, a single ad.Inject tag, placed in the footer of the webpages, creates viewable inventory on the fly by injecting display, skins and video ads into the viewport of the viewers' browser programmatically, with no changes to the website required.
This approach guarantees that only opportunities for viewable ads are being presented for bidding on the programmatic auctions and ads are delivered only within the viewable dimension of the viewer's [desktop or mobile] screen, regardless of the scrolling position of the viewable content, eliminating the real limitations of the ad serving architecture relying on the fixed-in-the-layout ad boxes and subject to the concept of "fold".
"With little effort on our part, LIQWID has enabled a new type of high-value ad inventory for our sites with guaranteed viewability, and created a premium product that we can sell directly." says Aaron Thies, Ad Sales & Operations Manager at Horoscope.com, "Before we started a few months ago, we did not think that we could provide guaranteed viewable ad impressions in an unobtrusive format.  We have achieved that with LIQWID."
"Today publishers are being forced to limit their advertising inventory to locations at the top of the webpage, considered as "above the fold", because they arguably have a better opportunity to be viewable," says Jim Rowan, LIQWID Chairman and President. "This obviously is a tricky concept, as the "fold" will be different on different screens. Once the webpage is scrolled, everything that was initially in view, including the "above the fold" ads, leaves the viewport of the browser, and the content that was located initially "below the fold" will then come into view with no opportunity to monetize with advertising. Websites concerned with their "viewability ratings" are being forced to reduce the number of "below the fold" ad slots. This simply is not fair to publishers, but ironically, it is equally challenging to advertisers and creates an additional expense associated with "verification" which informs essentially on what has already happened with no opportunity to make something better instead."
"With LIQWID ad.Inject, all impressions are created equal, enabling publishers also to sell directly and run campaigns based on 100% viewability using an array of placement options. The Fold is No More! " adds Nik Mentchoukov, CEO of LIQWID. "Finally, publishers are enabled to monetize their audience efficiently without being afraid of positioning ad slots in a way that might be not desirable by demand or not effective from the ad performance metrics criteria that could reduce the revenue potential. Publishers can actually end up having more revenue monetizing their actual viewership while having less ads on the viewers' screens and no disruption to the viewer's experience."
About LIQWID:
LIQWID®, a brand of LeftsnRights, Inc. (liqwid.com), was founded by Nikolai Mentchoukov and Jim Rowan in 2010. Today LIQWID is a global provider of digital viewable inventory via an array of technological solutions enabling the market to sell, buy, and run only viewable ads. LIQWID ad.Inject all-In-one tag advertising engine injects display, skins, video, and adaptive ads into the viewport of the viewers' browser on the fly programmatically, creating new, premium inventory for programmatic and traditional media buys.
For more information, visit http://www.liqwid.com/ or contact Nikolai Mentchoukov at 800-870-5006 or nm@liqwid.com.
Source: LIQWID
Share:
---
Categories: Advertising, Business Technology, Marketing, Industry News, Media Industry, Business
Tags: cpm, digital advertising, incremental revenue, monetization solution, online advertising, rtb, viewability, viewable impressions, viewable inventory, website monetization
---