LIQWID Releases the ad.Inject Library Enabling Digital Publishers for a Complete Automation of Advertising Inventory Based on Viewable-Only Ads Transacted Through a Real Time Dutch Auction
Press Release
•
updated: Jul 17, 2017
Now publishers can monetize "below-the-fold" (BTF) content based on premium eCPM transacted through a real-time Dutch Auction.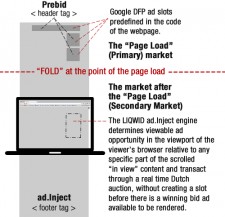 LAS VEGAS, Nev., July 17, 2017 (Newswire.com) - ​​​​Expanding capabilities of its ad.Inject, an award winning ad delivery and campaign management system, ​​​​LIQWID releases the ad.Inject Library, enabling digital publishers for a complete automation of advertising inventory based on 100 percent viewable-only ads. Publishers can monetize "below-the-fold" (BTF) content based on premium eCPM resulting from a real time Dutch auction, essentially creating a secondary market opportunity after the page load.
"LIQWID has solved the problems of 'below-the-fold' (BTF) ad slots by eliminating them with ad.Inject. Now publishers do not need the 'below-the-fold' (BTF) ad slots at all," explains Nik Mentchoukov, CEO of LIQWID. "With release of LIQWID's ad.Inject Library, digital publishers are enabled for a complete automation of advertising inventory based on viewable-only ads. By keeping only slots that Google recommends via their policies as the 'above-the-fold' (ATF) inventory transacting at the point of the 'page load,' publishers are enabled to monetize the rest of the content with ultimate effectiveness managed programmatically by our patented ad.Inject technology, without the use of manually pre-defined ad slots."
A Dutch auction is a type of auction in which the auctioneer begins with a high asking price which is lowered until some participant is willing to accept the auctioneer's price, or a predetermined reserve price (the seller's minimum acceptable price) is reached. The winning participant pays the last announced price. This is also known as a clock auction or an open-outcry descending-price auction.

Wikipedia, Dutch_auction
"The ad.Inject engine delivers ads into the viewport of the viewer's browser relative to any specific part of the scrolled "in view" content. And the ad.Inject Library allows for a precisely managed way to accommodate existing content even with very sophisticated layouts," continued Mentchoukov. "The ad.Inject Library is essentially a library of presets that are programmed to inject additional markup and stylesheets needed to render ads and manage their positioning and appearance within a custom webpage design using single-word placement parameters."
"A perfect tool to monetize Infinite-Scroll and Lazy-Loading pages, Responsive Layouts, long listings, long articles, long rails even the content of the Footer — all based on the ultimate viewability on Desktops, Mobile and Tablets. Publishers can convert now the unused or previously considered undesirable space into the most premium 100 percent viewable inventory automatically, with no changes to the website, and enhance their site viewability rating — the ad placements will clone themselves intelligently based on the opportunities created on each individual viewer's screen, maximizing the revenue potential," says Mentchoukov.
"Without creating a single ad slot, publishers using LIQWID ad.Inject have complete control on which type of ads can be injected into any specific part of the scrolled, in-view-content, and publishers are now enabled to manage monetization of these dynamically-created, on-the-viewer's-screen inventory opportunities via direct sales or programmatically. If there is no ad available that meets pricing expectations, the content remains as it is, like nothing happened, without any disruption to the viewers experience," concludes Mentchhoukov.
"The secondary market of opportunities is created after the Prebid partners and exchanges competing within the Google's DFP ad slot-based inventory are transacted," says Jim Rowan, LIQWID Chairman and President. "Entirely incremental revenue stream is created based on the inventory that does not exist before the page is rendered and our transactions start always after the publisher gets paid for all the existing inventory based on the market competition happening at the point of the page load."
"Different from the Prebid model, each of our impressions presented for bidding as an opportunity are of a determined equal value that allows the utilization of a Dutch auction* for our programmatic trading process, without creating a slot before there is a winning bid ad available to be rendered. Since with a Dutch auction a sale never requires more than one bid, we implemented this model because it is fast, does not create any latency, and proven to be effective for scalable trading models. And we never need to lower the price below the reserve in order to fill the slot because there is no slot to fill. Using LIQWID ad.Inject publishers also can sell direct 100 percent viewable campaigns or join our exclusive High-Viewability PMPs," says Rowan.
About LIQWID:
LIQWID®, a brand of LeftsnRights, Inc. (liqwid.com), was founded by Nikolai Mentchoukov and Jim Rowan in 2010. Today LIQWID is a global provider of digital viewable inventory via an array of technological solutions enabling the market to sell, buy, and run only viewable ads. LIQWID ad.Inject all-In-one tag advertising engine injects display, skins, video, and adaptive ads into the viewport of the viewers' browser on the fly programmatically, creating new, premium inventory for programmatic and traditional media buys.
Media Contact:
Nikolai Mentchoukov
Phone: 702.250.1227
Email: nm@liqwid.com
* Dutch auction definition by Wikipedia
Source: LIQWID
Tags
Related Files