Lipscomb, Moore, Rangel, and Rutland Elected to NCA National Board of Directors
National CACFP Sponsors Association Elects New Board Members
Press Release
-
updated: Sep 5, 2019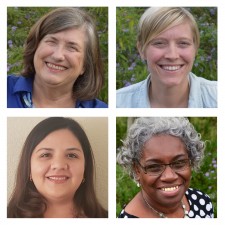 AUSTIN, Texas, September 5, 2019 (Newswire.com) - Vicki Lipscomb of Charlotte, North Carolina; Melissa Moore of Baltimore, Maryland; Gabriela Rangel of Tucson, Arizona; and Annetta Rutland of Cincinnati, Ohio, have been elected by the National CACFP Sponsors Association (NCA) membership to serve a three-year term on the Board of Directors.
All bring unique experience with the Child and Adult Care Food Program (CACFP) and are involved in the management of a sponsoring organization for family child care homes and/or child care centers which participate in the USDA child nutrition program.
As President of Child Nutrition, Inc. in Charlotte, N.C., Vicki Lipscomb has over 30 years of experience administering the food program as well as previous service on the board. With an in-depth understanding of the CACFP policies and regulatory processes, Ms. Lipscomb serves as an advocate for sponsoring organizations and works to reduce barriers to participation, ensure program integrity and streamline activities. She is extremely passionate about educating Congress and working with USDA to continue improvements of the CACFP. During her board tenure, Ms. Lipscomb has served as NCA Treasurer, President and Policy Chair.
Melissa Moore serves as the Director of Programs at the Family League of Baltimore in Maryland where she oversees both Afterschool Meals and Summer child nutrition programs. Ms. Moore's key objective through her work with the CACFP is to increase food security for our most vulnerable population both in Baltimore and nationwide. Ms. Moore's goal as a board member will be to continue the growth of the association through the valuable resources NCA provides, along with the annual conference, which are impactful for enrichment, outreach, advocacy and education. Entering her second term on the board, Ms. Moore has served as NCA Treasurer.
Gabriel Rangel will join the board for her first term in office. Ms. Rangel is currently the CACFP Director at Child & Resources, Inc., Tucson, Arizona. As a board member, Ms. Rangel is committed to making a positive impact nationwide through her advocacy for the CACFP.
Annetta Rutland, Strategic Director at 4C for Children in Cincinnati, Ohio, will serve on the board for her second consecutive term. With over 30 years of experience in the CACFP, Ms. Rutland is committed to ensuring that NCA serves as the voice for the CACFP program at a local, state and national level. Through working with government entities to sharing success stories and support, she believes NCA can impact all communities that serve children.
The experience, talent, passion, and commitment these board members share for the CACFP is inspiring. They are excited to serve NCA's members and all participate in the development of programs, activities, and policy positions. As a National Platform for the Child and Adult Care Food Program Community, NCA's mission is to bring members information on legislation, regulation, and advocacy issues, share resources among the entire CACFP community, and provide an engaging, informative annual conference — offering the largest CACFP networking and training opportunities in the nation. CACFP is an indicator of quality child care. When children are cared for by providers who are part of the CACFP program, they are receiving the best nutrition available.
Source: National CACFP Sponsors Association
Share:
---
Categories: Dieticians and Nutritionists
Tags: afterschool, CACFP, child care provider, food program, NCA, nutrition, USDA
---