Lifetime Opportunity for Language Technology Start-Ups to Win Free Showcase at Major National Foreign Language Conference
Press Release
•
updated: Mar 14, 2019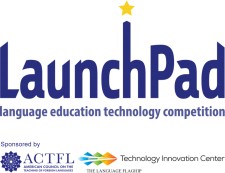 WASHINGTON, March 14, 2019 (Newswire.com) - The Language Flagship Technology Innovation Center is gearing up for the 2019 LaunchPad, a language education technology competition in its third year. LaunchPad offers start-ups a lifetime opportunity to attend, showcase and receive formal recognition at one of the world's most comprehensive language education expositions, the ACTFL World Languages Expo.
Inspired by the show Shark Tank, the competition consists of a 75-minute session at one of the convention venues during which a small group of start-up companies pitch their innovation and receive feedback from a highly specialized audience of world language educators. The winner of the competition will receive an honorary plaque from ACTFL and the Language Flagship Technology Innovation Center. All participating companies showcase and demonstrate their products at the Tech Center booth during ACTFL World Languages Expo hours November 22-24, 2019.
Benefits:
The Language Flagship Technology Innovation Center (Tech Center) will provide shared booth space at the 2019 ACTFL World Languages Expo at no cost for qualifying participants.
Exposure to thousands of language education professionals and numerous successful companies in the field during the ACTFL convention and through the Tech Center news channels and website.
2019 participants will be featured in publications, promotional materials and press releases.
Inclusion in our network of innovators, bringing together highly specialized professionals in the field of language learning technology.
Mentoring time with 2017 and 2018 Launchpad participants during the ACTFL Convention.
Winners will be featured in promotional materials for future events.
Details about LaunchPad: http://lftic.lll.hawaii.edu/launchpad/
Application deadline: April 15, 2019
For additional information, please contact tech.center@hawaii.edu
Testimonials from previous finalists:
"The LaunchPad competition at ACTFL gave Banter a platform to engage with decision makers from educational organizations all over the world. While venture capital competitions can help you raise funds to support your business, only LaunchPad can allow you to test the relevance of your product to modern-day approaches to language acquisition, and have your company validated by industry and academy-leading professionals." - Frank Dolce, CEO Banter, 2018 LaunchPad Winner
"Working with the Tech Center Launchpad has given VEO an excellent platform to build exciting partnerships in language education. In concrete terms, VEO has been able to form work with another growing Edtech platform that will see our software integrated into large-scale cross-cultural projects at University level, in addition to widespread trials with Language Flagship Universities in the US. The Launchpad team are extremely approachable and fantastic to work with. Aside from enjoying working with such enthusiastic and knowledgeable partners, I'm sure the long term benefits of our collaboration will be truly transformative for our business." - Paul Miller, CEO VEO, 2018 LaunchPad Finalist
About The Language Flagship Technology Innovation Center (Tech Center):
The Language Flagship Technology Innovation Center (Tech Center), sponsor of LaunchPad, is an initiative by the Defense Language and National Security Education Office (DLNSEO). The mission of the Tech Center is to enhance The Language Flagship experience through the effective use of technology. http://lftic.lll.hawaii.edu/
About the ACTFL World Languages Expo:
American Council on The Teaching of Foreign Languages (ACTFL) is one of the prime sponsors of LaunchPad and the host of the ACTFL World Languages Expo. The convention brings together more than 8,000 language educators around the world from all languages, levels, and assignments. https://www.actfl.org/convention-expo
Source: The Language Flagship Technology Innovation Center