Les Miles to Make Netflix Debut
Press Release
•
updated: Oct 23, 2019
The Kansas coach has a co-starring role in the critically acclaimed movie THE LAST WHISTLE, which will debut on Netflix this Friday, October 26.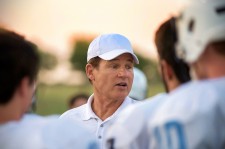 LOS ANGELES, October 23, 2019 (Newswire.com) - ​​​​Independent football drama The Last Whistle will debut on NETFLIX this week, giving coach-turned-actor (turned coach again) Les Miles his first and only appearance on the streaming platform, according to TLW Productions.
The occasion marks an end to a wild period between coaching jobs for Miles, who left LSU in 2016, and managed to appear in commercials, films, and more before kicking off a five-year contract with the University of Kansas. The Last Whistle is Miles' second major film role after The Challenger Disaster, which has not debuted on Netflix to date.
Miles' Netflix premiere makes for a nice endpoint to his brief, but substantial, acting career. He accomplished in three years what most Hollywood actors take a whole lifetime to do. While many outlets joked that he might have an Oscar in his future, none of Miles' films thus far have qualified for the award, based on the rules laid out by the Academy. So, unless The Last Whistle makes a splash at Film Independent's ​Spirit Awards ​in February, this will mark the official end of Miles' movie career -- for now. In half a decade when his Kansas contract expires, we'll see if he headlines a blockbuster or three.
If it was up to Last Whistle Director Rob Smat, Miles will return. Smat says he hopes this could happen before the end of this coaching job: "Les was incredible to have for the film, and I enjoyed every minute working with him. Audiences too have had a great time watching him. And I realize Les has a commitment to Kansas, but that doesn't mean I won't do my best to get him to one of my sets during the offseason."
Smat's next film will take place on the field again, as he will be adapting Gaines Baty's bestselling true story, Champion of the Barrio, about El Paso's first Hispanic high school football team in the 1950's.
The Last Whistle follows a high school coach (Brad Leland, best known as "Buddy Garrity" in Friday Night Lights), who is shaken by the sudden death of his promising star player, who collapses during practice. As he fights against his inevitable responsibility for the event, the veteran coach tries to play on to maintain the team's winning streak.
The film currently has exclusively fresh reviews on Rotten Tomatoes and is also available on DVD, iTunes, and Amazon Prime. Variety magazine raved about both Leland's performance in the film, and the LA Sentinel raved that Les was fun to watch in the film as well.
Miles is 2-5 at Kansas after a close weekend game against Texas. But he's turned the program around noticeably and has a bright future at a program that hasn't posted four wins in a season since 2009.
Source: TLW Productions
Additional Links