Legal Funding for PI Attorneys, Plaintiffs and Divorce, Estate-Probate Cases
Legal funding for Plaintiffs and Lawyers. No risk! If A Plaintiff loses their case, they will owe nothing.
Press Release
-
updated: Jul 18, 2018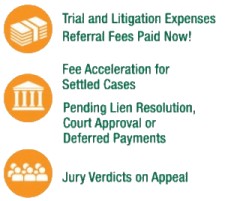 ALLENTOWN, Pa., July 18, 2018 (Newswire.com) - ForLawFirmsOnly Marketing is pleased to announce they are offering legal funding for Plaintiffs and Lawyers. No risk! If a Plaintiff loses their case, they will owe nothing.
Any attorney knows that growing a business is difficult. The expenses never stop – and it can take years to receive payouts from successful verdicts or settlements. Attorney funding, also known as law firm loans or lawyer funding, can help your firm stay afloat as cases resolve. The arrangement provides the capital to grow your firm today so that you can reap the rewards tomorrow.
The Legal Funding vendor partner provides working capital for litigation for operating expenses or fee acceleration for personal injury and class actions cases pending Lien Resolution, Court Approval, statutorily delayed payments and verdicts on appeal. They also provide funding for plaintiffs, mass tort litigation, divorce cases and estate cases.
The funding vendor has supported legal counsel in establishing Mass Tort marketing campaigns by providing mass tort legal fee funding. They generally do not make financial investments to attorneys or firms making initial entry into the space. However, if they have run campaigns in the past in which reputable litigation counsel was referred cases, and/or have worked with a marketing firm with a track record converting leads to signed cases, they will advance up to $500,000 taking an existing portfolio of retained and referred cases as collateral.
The legal funding vendor is the premier pre-settlement funding company, providing litigation financing for attorneys, plaintiffs and offering assistance when it is needed the most. Pre-settlement funding allows personal-injury victims and lawsuit plaintiffs to pay expenses, manage cash flow, and secure medical care, including surgical financing, while awaiting the settlement of their claims.
It is predictably more complicated to untie the knot than to say "I do." Divorce actions typically have a financially weaker party who would suffer hardship as the result of a delay in receiving the distribution of marital assets whether by inadvertence or design. For example, some delays may be related to the adversarial litigation process such as investigation and discovery of assets; or there may be a settlement agreement which requires an appraisal and/or sale of real property or business assets.
The legal funding service restores leverage toward a balanced negotiation between the parties by providing divorce legal fee funding. The funding group will provide up to 20% of the estimated value of a marital estate without regard to creditworthiness or employment, and the transaction will remain completely confidential.
Administration of an Estate can be a complicated process just as the sale of a business. First, assets must be identified and liquidated. Cash may be needed to identify, maintain or protect assets while liabilities must be considered and provided for. There may be fewer taxes due if paid earlier. There may be litigation to resolve on behalf of Estate and third parties. Even worse, there may be disputes or litigation among family or other beneficiaries. The legal funding vendor provides estate and probate loans to cover these costs until the will is settled.
The funding vendor provides capital for payment of estate and probate professional fees (legal, accounting, appraisal) experts, probate fees or to simply convert judgments to cash and provide early partial distributions.
Once all of the substantive issues have been resolved, there may be further delays to sell real estate or business assets, and thereafter it could take several more months to obtain court approval before final distributions are made, and the Estate is closed.
There are no monthly payments charges may even be a deductible administration expense.
More About ForLawFirmsOnly Marketing Inc.
Founded in 1994, BusinessCreator Inc. has helped many businesses with local search marketing, lead generation, mobile marketing, social marketing and video marketing. The company's mission statement is "We make local businesses grow. Ask us how." ForLawFirmsOnly Marketing Inc. was created as a result of working with several bar associations as their preferred vendor for online marketing and web design services. ForLawFirmsOnly continues in the same tradition as BusinessCreator, putting client needs and success first.
CONTACT INFORMATION
ForLawFirmsOnly Marketing Inc.
Attention: Edward Lott, Ph.D., M.B.A.
47 North Jefferson Street
First Floor
Allentown, PA 18102
Phone: 610-437-8822
Fax: 484-709-1851
Website: https://www.forlawfirmsonly.com
Email: edl@forlawfirmsonly.com
Source: ForLawFirmsOnly Marketing
Share:
---
Categories: Legal Services
Tags: divorce funding, estate probate funding, mass tort funding, personal injury funding, plaintiff funding
---