Lebanese MP Receives GHC Award, Reflects on International and Local Challenges
Press Release
•
updated: Oct 1, 2018
The 2018 Heroes of the Global Campaign against Extremism and Intolerance came from every corner of the globe.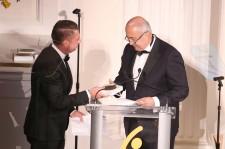 NEW YORK, October 1, 2018 (Newswire.com) - Lebanese MP Fouad Makhzoumi received the prestigious Global Hope Coalition Award, in recognition of his relentless efforts to spread tolerance and peaceful coexistence.
Makhzoumi is a Lebanese businessman and politician, founder of the National Dialogue Party, and elected Member of Parliament in 2018.
He accepted the award on behalf of all sufferers of violent conflict in our region, and as a 'Muslim who strongly believes in a future of tolerance and peaceful coexistence.'

Fouad Makhzoumi, MP, Lebanon
He accepted the award on behalf of all sufferers of violent conflict in our region, and as a "Muslim who strongly believes in a future of tolerance and peaceful coexistence."
MP Makhzoumi is the founder of the Makhzoumi Foundation, a national nonprofit and Non-Governmental Organization (NGO), established in 1997, to empower Lebanese individuals for a better community.
Since its inception, the Foundation has distributed over 2.5 million individual services and has empowered disenfranchised Lebanese women by providing them with the tools to survive on their own.
Makhzoumi Foundation has also been administering services through its Relief Unit for Syrian displaced communities registered with the UN, in partnership with the UNHCR, UNICEF, UNDP, UNESCO, the EU, and USAID.
"We feel it is our duty and moral obligation to help the enforced displaced Syrians, by providing them with the necessary bridges until they can return to their country," Lebanese MP said.
According to Makhzoumi, "all refugees deserve to regain a sense of dignity, access to the education and training to help them support their families in times of crisis, and access also to the skills required to rebuild their lives back home at the end of the conflict."
"The Syrian crisis is a huge burden that Lebanon cannot hold alone. Our aim is mainly to reduce the disruption of the lives of the Lebanese people who have to deal with an additional 1.5 Million Syrian displaced people for a population of 5 million in Lebanon", he added.
In an interview, Makhzoumi reflected on the importance of participation in the United Nation's General Assembly, pointing out "it was a great opportunity for us to present our case."
He said that the Lebanese politics is bound by geography, given that it shares 85% of its borders with Syria.
According to the MP, the biggest challenges facing Lebanon today is that "there is little belief that the government can play its role as it is supposed to do, for there is doubt and a lack of trust in most politicians because of the corruption", stressing out on the need for gender equality, opportunity equality, as well as the Lebanese Womens' Right to grant citizenship to their children.
Asked about the U.S. sanction against Palestinians, Makhzoumi said: "we need peace, we should implement the international resolution to reach a fair solution. Reaching a solution to this crisis, which is the main crisis in the region, would be a start to restore peace, security, and social development in the region. Jerusalem is a holy city for the Arab, and no one can ignore that it is a sacred place for all faiths Islam, Christianity, and Judaism."
In a separate context, Makhzoumi said that Trump's administration is delivering what it promised the American people, pointing out that it is not in the U.S. interest to go into a trade war with China because the "two countries need each other."
"We should encourage dialogue and not trade war" he concluded.
Media Contact:
Bernard Bridi
Phone: +961.1.637000, ext. 332
Email: b.bridi@futuregroup.com
Source: Global Hope Coalition Award