LearningRx Reviews Results of Personal Brain Training for Students With Autism Spectrum Disorder
Press Release
•
updated: Jun 18, 2019
June 18 is Autistic Pride Day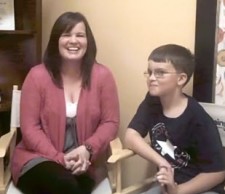 COLORADO SPRINGS, Colo., June 18, 2019 (Newswire.com) - ​June 18 is Autistic Pride Day and LearningRx (www.LearningRx.com), the world's largest personal brain training company, is sharing the results of students with Autism Spectrum Disorder (ASD) who went through its program.
Unlike digital brain games, one-on-one brain training uses customized exercises and incorporates immediate feedback, intensity, and loading, among other features, to target brain skills—including attention, auditory processing, memory, logic & reasoning, processing speed and visual processing.
"Between 2010 and 2015, 857 clients came to LearningRx with a diagnosis on the autism spectrum," explains Chief Research & Development Officer Tanya Mitchell. "The average age was 11.9. Using the Woodcock-Johnson III – Tests of Cognitive Abilities both pre- and post-training showed significant improvements for all cognitive skills."
According to Mitchell, overall, the largest gains were seen in auditory processing and long-term memory, followed by logic & reasoning, working memory, and broad attention.
The average pre-training IQ score was 92 and the average post-training IQ score was 101. The average age-equivalent gain in cognitive skill performance was 3.1 years.
In addition to clinical data, anecdotal evidence from parents of children with ASD can help explain how personal brain training helped target and train cognitive skills.
Matthew Evans of Chattanooga, for example, came to LearningRx with an ASD diagnosis. He was at risk of being retained for another school year and struggled with reading, memory, and comprehension issues, as well as low confidence.
After completing a LearningRx personal brain training program, Matthew's mom says that he started reading, having conversations with other kids, and demonstrating more confidence. When he went back for a new school year, his teachers were amazed at his progress. His mom says LearningRx took the "hard parts of autism and the things he couldn't understand and made them bearable." Now Matthew plans to be a veterinarian.
Watch Matthew's video here: http://studentshoutouts.com/2016/11/03/from-reading-struggles-to-honor-roll
To learn more about how LearningRx personal brain training might be able to help your student with ASD, visit www.learningrx.com.
About LearningRx
LearningRx, headquartered in Colorado Springs, Colorado, is the largest one-on-one brain training organization in the world. With 80 Centers in the U.S., and locations in 45 countries around the globe, LearningRx has helped more than 100,000 individuals and families sharpen their cognitive skills to help them think faster, learn easier, and perform better. Their on-site programs partner every client with a personal brain trainer to keep clients engaged, accountable, and on-task—a key advantage over online-only brain exercises. Their pioneering methods have been used in clinical settings for over 35 years and have been verified as beneficial in peer-reviewed research papers and journals. To learn more about LearningRx research results, programs, and their 9.6 out of 10 client referral rating visit http://www.learningrx.com.
Source: LearningRx
Related Media
Tags
Related Files
Additional Links