LearningRx Reviews Research Study That Showed Brain Training Created New Brain Connections
LearningRx training showed significant changes in brain connectivity involved in cognitive processing following LearningRx cognitive training in an independent randomized control study.
Press Release
-
May 28, 2016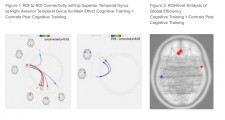 Colorado Springs, Colorado, May 28, 2016 (Newswire.com) - A Randomized Control Trial (RCT) testing LearningRx's (www.LearningRx.com) ThinkRx personal brain training program has been completed and analysis of the brains of the students found significant physical changes. The results of the analysis—"Analysis of Resting State Functional Connectivity in a Cognitive Training Intervention Study"—have been published in LearningRx's 48-page 2016 edition of "Client Outcomes and Research Results." http://www.learningrx.com/our-programs/learningrx-results/.
In the study, 30 high school students were randomly assigned to one of three conditions: ThinkRx, digital training, or study hall (control) for a 15-week training period. All students underwent cognitive testing and MRIs pre- and post-training. Analysis of cognitive testing scores found that training groups scored significantly higher than controls on multiple tasks, with the most significant gains occurring in auditory processing.
"Using fMRI, we looked at underlying brain changes related to gains in auditory processing following LearningRx training,"
Even more exciting:
fMRI
analysis of resting state connectivity with the auditory cortex by
Neuroscientist
and Research Fellow at LSU Health Sciences Center Dr. Christina
Ledbetter
revealed:
                • Significant changes in the resting state connectivity with multiple cortical regions involved in cognitive processing occurred following cognitive training
                • An increase in global network efficiency occurred following cognitive training
                • Network changes in the brain correlated to auditory processing gains
"Using fMRI, we looked at underlying brain changes related to gains in auditory processing following LearningRx training," explains Dr. Ledbetter. "We found that changes in brain connectivity occurred between the auditory cortex and cortical areas involved in cognitive processing, and that the degree of change correlated with gains in auditory processing."
LearningRx programs are based on 35 years of research and input from a team of psychologists, educators, speech and language pathologists, and occupational therapists. "With 95,000 students having graduated our brain training programs, we have plenty of data for independent researchers to study our unique cognitive training methodology and results," says Tanya Mitchell, Vice President of Research & Development for LearningRx. "We are eager to share our results, and independent research helps validate our work among the scientific community in an industry that is still relatively young, and therefore under constant scrutiny."
LearningRx (www.LearningRx.com) has a network of 78 centers across the United States and locations in over 35 countries (www.BrainRx.com). The company has an average customer rating is 4.9 out of 5. Using a comprehensive skills assessment test and intensive one-on-one training, LearningRx programs enhance weak cognitive skills such as attention, memory, processing speed, and problem solving.
Source: LearningRx
Share:
---
Categories: Educational News, Healthcare, Literacy
Tags: auditory processing, brain training, fmri, Learning Rx, LearningRx, new connections, randomized control trial, significan changes
---