LearningRx Reviews American Academy of Neurology's New Recommendations for MCI: Cognitive Training and Exercise
Press Release
•
updated: Jan 3, 2018
LearningRx Shares Cognitive Training Results for Seniors with Age-Related Memory Loss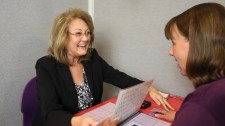 COLORADO SPRINGS, Colo., January 3, 2018 (Newswire.com) - The American Academy of Neurology has just updated its 2001 practice guidelines for treating mild cognitive impairment (MCI). While medicine is no longer recommended, exercise and cognitive training are.
"No high-quality evidence exists to support pharmacologic treatments for MCI," says the abstract from Neurology. "In patients with MCI, exercise training (six months) is likely to improve cognitive measures and cognitive training may improve cognitive measures."
We have worked with older adults with age-related memory loss and had great results.

Tanya Mitchell, LearningRx Chief Research and Development Officer
The findings come as no surprise to Tanya Mitchell, chief research and development officer of LearningRx (www.learningrx.com), the world's largest personal brain training company. "We have worked with older adults with age-related memory loss and had great results. We published our results on seniors in our Client Outcomes and Research Results Report," says Mitchell. "In fact, clients over the age of 50 who came to LearningRx made the greatest gains of all age groups, averaging a 19-point increase in IQ, which is a measurement of combined cognitive skills, including long-term memory, processing speed, working memory, auditory and visual processing, broad attention and logic & reasoning."
In an effort to continually improve on the results of its personal brain training programs, LearningRx's research arm, the Gibson Institute of Cognitive Research (www.gibsonresearchinstitute.org), is currently conducting a clinical trial using a multidisciplinary intervention for MCI. LearningRx's pioneering one-on-one brain training programs have been published in respected peer-reviewed journals including: Frontiers in Education, Applied Cognitive Psychology, Frontiers in Psychology, Vision Development and Rehabilitation and Journal of Experimental Education: Learning, Instruction and Cognition.
"We're excited to be a part of an industry that is gaining recognition for its ability to help those with cognitive struggles in all phases of life," says Mitchell. "From dyslexia and attention struggles to traumatic brain injury and mild cognitive impairment, one-on-one brain training provides the customized, noninvasive training that's needed to target weak cognitive skills at any age."
About LearningRx
LearningRx, headquartered in Colorado Springs, Colorado, is the largest one-on-one brain training organization in the world. With 80 Centers in the U.S. and locations in over 40 countries around the globe, LearningRx has helped more than 100,000 individuals and families sharpen their cognitive skills to help them think faster, learn easier and perform better. Their on-site programs partner every client with a personal brain trainer to keep clients engaged, accountable and on-task - a key advantage over online-only brain exercises. Their pioneering methods have been used in clinical settings for over 35 years and have been verified as beneficial in peer-reviewed research papers and journals. To learn more about LearningRx research results, programs and their 9.6 out of 10 client satisfaction rating, visit http://www.learningrx.com/.
Source: LearningRx
Related Media
Tags
Related Files
Additional Links