LearningRx Launches 100K Giveaway and Celebration During Learning Disabilities Awareness Month
Press Release
•
updated: Oct 5, 2017
Local LearningRx Centers Giving Away Free Brain Skills Assessments to Thank the Communities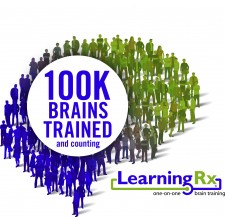 COLORADO SPRINGS, Colo., October 5, 2017 (Newswire.com) - October is Learning Disabilities Awareness Month and personal brain training company LearningRx (www.LearningRx.com) is shining the spotlight on learning struggles with free brain assessments across the country.
To thank the communities that have supported its 80-plus centers across the U.S., LearningRx is launching its 100K Giveaway and celebration on Oct. 21. The event celebrates the one-on-one brain training company's 100,000th student and the success of LearningRx's programs. The company is giving away 100,000 Gibson Tests (a $97 per-test value), including an individual assessment of each test-taker's results, which provides valuable insight into their learning skills. The local celebrations, which will be held at each of the 80-plus LearningRx Personal Brain Training Centers, will feature food, free brain training demonstrations, LearningRx graduates of all ages, and raffle drawings for great prizes.
If there are learning struggles, the Gibson Test will help pinpoint the cause.

Tanya Mitchell, Chief Research and Development Officer
"Unlike the SATs, ACTs and other standardized state tests which measure accumulated academic knowledge, the Gibson Test measures a person's cognitive skills," explains LearningRx Chief Research Officer Tanya Mitchell. "These include the seven core brain skills: attention, working memory, processing speed, auditory and visual processing, logic & reasoning and long-term memory. So, while a history test will determine what facts a child remembers, a cognitive skills test will determine how well they can pay attention to, memorize, process, recall and apply those facts."
"We wanted to give back to the communities that have helped support our centers by providing our supporters with free results to help them gain insight into their learning strengths and weaknesses," says Mitchell. "If there are learning struggles, the Gibson Test will help pinpoint the cause."
To learn more about your local 100K giveaway or request an invitation, contact your nearest center, which can be found here: http://www.learningrx.com/find-a-center.
About LearningRx
LearningRx, headquartered in Colorado Springs, Colorado, is the largest one-on-one brain training organization in the world. With 80 Centers in the U.S. and locations in over 40 countries around the globe, LearningRx has helped more than 100,000 individuals and families sharpen their cognitive skills to help them think faster, learn easier, and perform better. Their on-site programs partner every client with a personal brain trainer to keep clients engaged, accountable and on-task — a key advantage over online-only brain exercises. Their pioneering methods have been used in clinical settings for over 35 years and have been verified as beneficial in peer-reviewed research papers and journals. To learn more about LearningRx research results, programs and their 9.6 out of 10 client satisfaction rating, visit http://www.learningrx.com.
Source: LearningRx
Related Media
Tags