Learn How to Write Click-Worthy Press Release Headlines with the Help of Newswire's Smart Start Guide
Press Release
•
Aug 23, 2023
Newswire shares how to give campaigns their best chance at success with scroll-stopping headlines.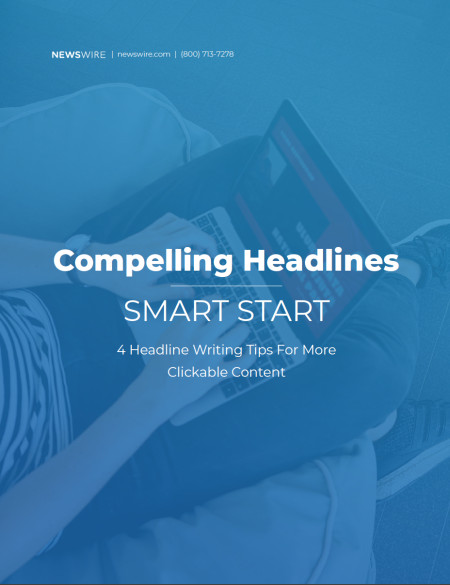 RALEIGH, N.C., August 23, 2023 (Newswire.com) - It's reported that 80% of people will only read headline copy. The headline is like a first impression. Brands only have seconds to make a good one.
As an industry leader in press release distribution services and media technology, Newswire understands the importance of a scroll-stopping headline. To help business professionals around the globe improve their approach to writing compelling headlines, Newswire created a Smart Start, which is a free educational resource.
"A strong press release headline is the key to a campaign's success," said Jennifer Hammers, Executive Vice President of Sales and Marketing at Issuer Direct. "Our team helps our clients craft headlines daily that capture and keep the attention of the media and their target audiences."
In its Smart Start, Newswire covers the following topics:
The importance of headlines
How to write SEO headlines with keywords
Four actionable tips to write better headlines
"This Smart Start is a crash course in writing compelling press release headlines and is perfect for anyone trying to develop or improve their skills," added Hammers.
Download the Compelling Headlines Smart Start Guide.
About Newswire
Newswire is a media technology company that provides its clients with the Press Release Optimizer, which consists of press release distribution, media databases, media monitoring, and online media rooms that power the Media Advantage: greater brand awareness through earned media, increased online visibility through content strategy and planning as well as greater SEO recognition.
Through its disruptive Press Release Optimizer, relentless commitment to customer satisfaction, and passion for customer performance, Newswire is automating media and marketing communications for large and small businesses seeking to deliver the right message to the right audience at the right time for the right purpose.
To learn more about Newswire and its Press Release Optimizer, visit Newswire.com and discover why our customers have named us #1 for Customer Satisfaction and Ease of Use for four years in a row. For more information, visit https://www.newswire.com.
Newswire is a wholly owned subsidiary of Issuer Direct, a leading communications and compliance company, providing solutions for both Public Relations and Investor Relations Professionals. For more information, please visit www.issuerdirect.com.
Source: Newswire