Learn How to Crush It in the Collision Repair Industry With Newly-Released Book
The Secrets of America's Greatest Body Shops
Press Release
-
updated: Apr 18, 2017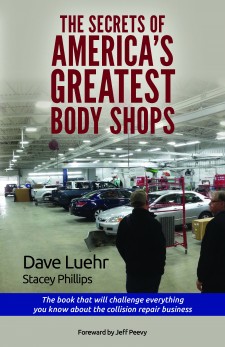 Carlsbad, CA, April 18, 2017 (Newswire.com) - Discover the six secrets used by America's greatest body shops in a newly-released book written by Dave Luehr and Stacey Phillips: The Secrets of America's Greatest Body Shops. Throughout the book, the authors share insightful lessons along with real-world stories of actual collision repairers who have discovered the secrets that have propelled them to a much higher level than their competitors.
"Right now is the best time in history to be in the collision repair business, but only for those with the right mindset," said Luehr, who is also the owner of Elite Body Shop Solutions. "In the book, we'll challenge you think differently, explain how to reduce your dependency on DRPs, and provide many tips needed to grow the sustainable, profitable business you have always dreamed of."
"This book is a must read for anyone who wants to understand the evolution of one of the most important industries in the American business world."
"Dave helps us see the current state of the collision repair industry in a kind and yet eye-opening way," said Dave Dunn, CCRM, founder of Masters School of Autobody Management and Dave's Auto Body. "Additionally, he offers hope for those of us who love our industry and coaches us into seeing even greater opportunity."
With over 30 years of expertise developing the profitability and efficiency of collision repair shops, Luehr combines his decades as a body shop owner with his expertise gained at some of America's leading collision repair organizations as founder of Elite Body Shop Solutions. Based in Nashville, Tennessee, the business development and professional coaching organization redefines the value and competitive advantage collision repair businesses can expect from an industry advisor.
"Filled with insight on the past, the present and the future, Dave Luehr is definitely someone who contributes to all that is good in the collision repair industry," said Mike Anderson, owner of Collision Advice.
Phillips is the owner of Radiant Writing & Communications. She has more than 20 years of experience editing and writing for a wide range of businesses and fields. These include technical industries such as automotive, engineering and oil and gas, as well as consumer-focused magazines, newspapers and websites. As the prior assistant editor at Autobody News magazine, she currently writes monthly columns and articles for the publication related to collision repair.
"I hope the messages we share are helpful to those in the industry and encourage shop owners and managers to continually improve their businesses and strengthen their teams so they can deliver an excellent product to customers," said Phillips.
"Stacey and Dave have done an extraordinary job analyzing, communicating insights and showcasing the best practices of the collision repair industry," said Jose Costa, group president, Driven Brands. "This book is a must read for anyone who wants to understand the evolution of one of the most important industries in the American business world."
For a limited time, the authors are offering a 10% discount for book purchases made on the publisher's website—the CreateSpace eStore. Enter discount code: P8ELKUTG. The book is also available to purchase on Amazon. For those interested in bulk purchases, special discount packages are available. Please contact the authors at info@bodyshopsecrets.com.
Luehr is scheduled to speak during the Southern Automotive Repair Conference (SARC) in Biloxi, Mississippi. His presentation, which is titled "The Secrets of America's Greatest Body Shops Series – The Six Secrets Revealed" will be held on Friday, April 21 from 2-3 p.m. The book will also be available at the show for purchase.
Luehr and Phillips encourage shops to join the Body Shop Secrets community, where they will receive ongoing resources, helpful tips and other information specifically designed to keep collision repair businesses highly successful. Details are available on the Body Shop Secrets website: www.bodyshopsecrets.com.
For more information and to set up speaking engagements and interviews, send an email to info@bodyshopsecrets.com.
Source: Radiant Writing & Communications
Share:
---
Categories: Business News, Automotive, Training and Coaching
Tags: auto body, automobile, automotive repair, body shop, coaching, collision repair, leadership, training
---