Leanna Haakons Shares Tips to Take Some of the Stress Out of Tax Day on TipsOnTV
Press Release
•
Apr 12, 2023
Top TV Financial Expert on Financial Literacy and Make Tax Day Just a Little Better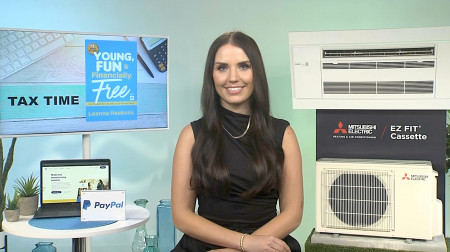 ATLANTA, April 12, 2023 (Newswire.com) - The stress of tax season is here so this year, financial expert Leanna Haakons shares timely tips to take a little stress out of this challenging time. Haakons is the author the best-selling book YOUNG, FUN AND FINALLY FREE: Live the Good Life and Build a Kick-Ass Future. She is on a mission to promote financial literacy for millennials and Gen Z while adding a little fun to finance.
A TIMELY TIP FOR MAKING IT EASIER TO FILE TAXES
Tax season is nobody's favorite, but this year, manage funds with less stress by tackling taxes with PayPal. When filing online, PayPal makes paying simple. It lets consumers securely pay for tax prep and filing through one of its filing partners, and even spread the tax payments over time through PayPal Credit. Tax season doesn't have to be stressful, and PayPal provides some amazing tools to make it easier than ever.
TAKE THE STRESS OUT OF TAX SEASON
A simple and easy tip to get a tax refund up to five days quicker and take some stress out of the entire tax process is with PayPal, which has great tools to help manage refunds. Quick and simple, receive a federal tax refund in PayPal Balance with PayPal Direct Deposit. Once it is in PayPal balance, make the refund work by saving cash or shopping directly from PayPal Balance. To learn more, visit PayPal.com/taxes.
NEW WAYS TO SAVE ON TAXES
First, learn about the new tax laws. For homeowners, there is the Inflation Reduction Act, or IRA, of 2022, which offers eligible unprecedented opportunities to save on home energy improvement projects with Federal tax credits and rebates starting in 2023. The law brings energy bill relief to homeowners by incentivizing more efficient, all-electric appliances. One of the best is Mitsubishi Electric's variable-capacity, all-climate heat pumps. This Mitsubishi Electric technology can help Americans reduce their carbon footprint, achieve better comfort, and realize lower operating costs.
OTHER TAX BENEFITS OF ELECTRIC APPLIANCES
Say goodbye to old air conditioners, furnaces or boilers because the Mitsubishi Electric all-electric heat pump systems provides both air conditioning and heating. They create zones that heat or cool rooms only when used, saving money and energy. With the Inflation Reduction Act, homeowners also get a tax credit of 30%, up to $2,000, for the purchase and installation of a qualified heat pump. This credit runs through December 2032 with the Energy Efficient Home Improvement Tax Credit. Eligible households also get a rebate of up to $8,000 from their state to offset qualified heat pump costs with the High Efficiency Electric Home Rebate Program. For more information, visit www.mitsubishicomfort.com.
About TipsOnTV
TipsOnTV is a lifestyle blog featuring content as seen on national and local media outlets. Expert hosts share advice for viewers, listeners, and readers. TipsOnTV covers a variety of topics, including food, entertaining, personal finance, technology, travel, health, lifestyle and more.
Source: TipsOnTV