Leading San Francisco Tax Preparation Service, Safe Harbor CPAs Announces Innovative Blog Post
San Francisco accounting firm, Safe Harbor LLP, is one of the top tax preparation services in the city. With official tax season completed, the accounting firm announces a tongue-in-cheek post about local tax preparation service in San Francisco.
Press Release
-
updated: Jun 23, 2017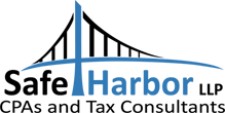 San Francisco, CA, June 23, 2017 (Newswire.com) - Safe Harbor LLP, an accounting firm offering tax preparation services to both individuals and businesses in San Francisco, is proud to announce an innovative, fun post to its blog on 'tax preparation services near me.' Many San Francisco residents search for nearby tax preparation services when, in reality, they should be looking for the tax service that best fits their needs.
"While in real estate the mantra is 'location, location, location,' that isn't so true for tax preparation services," explained Chun Wong, Managing Partner at Safe Harbor LLP. "Accordingly, our fun blog post reminds San Franciscans to seek out the best tax preparation service for their needs, especially for amended returns and other long term tax planning issues."
To read the informative blog post on tax preparation, visit http://www.safeharborcpa.com/san-francisco-tax-preparation-near-me-really/.
TAX PREPARATION SERVICES NEAR ME
Google and other popular search services like Yelp have trained San Francisco residents to seek out services using the phrase, 'near me.' While this might be true for cheap gas or even the closest coffee shop, it may not be the best way to search for a tax preparation service. Instead of formulating the search as 'near me,' a better way to search is for the best tax preparation service for a specific need, such as expatriate tax returns (e.g., at http://www.safeharborcpa.com/expatriate-tax-service/) or small business tax returns and tax issues. A Canadian living in San Francisco, for example, needs an accounting firm with deep expertise in international tax and expatriate tax returns for Canadians. Or, alternatively, a business in San Francisco seeking assistance with audited financials needs a CPA firm that understands how to create them in an efficient way. So, despite the frequency of the phrase 'tax preparation service near me,' the blog post advises San Franciscans to search for the best tax service for a specific need.
About Safe Harbor LLP – a Professional CPA Firm in San Francisco
Safe Harbor LLP is a CPA firm that specializes in accounting and tax services for individuals and businesses throughout the San Francisco Bay Area and greater California.  Safe Harbor CPAs helps both individuals and businesses with tax preparation, IRS audit defense, and audited financial statements.  The firm prides itself on friendly yet professional service and utilizes state-of-the-art Internet technology to provide quality customer service.
Safe Harbor CPA
http://www.safeharborcpa.com
Tel. 415.742.4249
Source: Safe Harbor LLP
Share:
---
Categories: Taxation and Tariffs, Financial Accounting, Accounting
Tags: accountant, accounting, tax firm
---