Lead Generation and Marketing Agency Marketopia to Speak to MSPs Virtually at Remote Reality LIVE Conference
Press Release
-
updated: Apr 6, 2020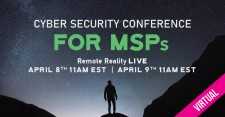 PINELLAS PARK, Fla., April 6, 2020 (Newswire.com) - Marketopia, a premier lead generation and marketing agency for technology companies, is proud to announce that they will join other tech giants as a featured sponsor at Blackpoint Cyber's Remote Reality LIVE conference, which will occur online April 8 through April 9, 2020. The virtual conference will focus on how managed service providers (MSPs) can stay secure and profitable during the COVID-19 pandemic. Registration and attendance are free for this two-day conference and will include sessions by former leaders of the United States' government cybersecurity and intelligence communities, as well as cybersecurity experts and business veterans from the MSP services and technology industry.
Jon Murchison, Blackpoint's CEO and founder, and former U.S. government cyber operations expert, explains the conference's objective: "IT services and infrastructure have become mission-critical for organizations to survive in this new economic landscape brought on by COVID-19. MSPs are the key to our success and, especially during these times, a collective national asset to their respective countries. That's why we are bringing together experienced government and industry leaders to help MSPs navigate the current economic and security environments. We're excited to provide one of the first online and socially-distanced conferences dedicated to MSPs and cybersecurity."
Marketopia's CMO, Andra Hedden, will be speaking to share insight on how MSPs can generate leads virtually during – and after – this pandemic.
"Now more than ever, generating and securing leads is vital for the long-term success of an MSP," explains Andra Hedden. "With social distancing and lockdowns in effect for cities around the globe, the ability to generate leads and close deals virtually is a must for MSPs – and the ability to do so will continue to uncover revenue-generating opportunities long after the COVID-19 pandemic has subsided."
Michael Morell, former Deputy Director and Acting Director CIA, will present the keynote session on national security implications of the Coronavirus outbreak. 
Additional former U.S. government cybersecurity and intelligence expert speakers include: Bill Priestap, former FBI Assistant Director of Counterintelligence, Chris Inglis, Former Deputy Director of NSA, Dave Sears, retired Commander and Navy SEAL, and Kevin Donegan, former United States Navy Vice Admiral and previous commander of the US Navy's 5th fleet out of Bahrain. Security and MSP industry leaders will also present informational sessions, such as security in the MSP space, cybersecurity for commercial real estate, the threat landscape of remote workers, and more.
Participants may register online: Remote Reality Live – Free Registration
About Marketopia
Marketopia is the premier marketing and lead generation agency for the IT channel. We are uniquely positioned to serve the needs of software, hardware and cloud vendors, distributors, MSPs and VARs in the IT channel. With deep roots in the MSP world, Marketopia's understanding of the industry helps the company's lead generation, marketing and sales training services stand apart from our competitors in delivering leads, sales and profit. For more information about Marketopia and our proven demand generation system, visit www.marketopia.com, call 844-482-4769 and engage with us on Facebook, LinkedIn and Twitter. 
Source: Marketopia
Share:
---
Categories: Business Technology
Tags: Blackpoint Cyber, coronavirus, COVID-19, cybersecurity, lead generation, managed IT services, marketing, Marketopia, Remote Reality LIVE conference, sales, virtual conference
---