Lauren Fix Shared Fall Car Care on Tips on TV Blog
Press Release
•
updated: Oct 12, 2018
Find Out from the Nationally Renowned CAR COACH Why Performing Basic Maintenance Can Keep a Car Running with Racing Precision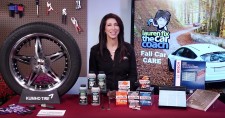 ATLANTA, October 12, 2018 (Newswire.com) - After a long hot summer, we know that winter will be here soon. That's why the National Car Care Council recommends a six-point vehicle check for better performance and fewer unexpected winter repairs. Automotive expert Lauren Fix, best known as The CAR COACH, has some tips for fall car care check, and to share some info about cutting-edge car parts.
WHERE TO START WITH A FALL CAR CARE CHECKUP
Noticing poor fuel economy and performance, it might be time to change the spark plugs in the car. Check your service schedule in the owner's manual, and replace with plugs that either maintain or upgrade performance. Upgrade to iridium spark plugs, such as Autolite's Iridium XP plugs, for improved performance, enhanced fuel efficiency and an industry-leading limited lifetime warranty. For more information, visit www.autolite.com/campaigns/fall-tips.
HOW DOES THE WEATHER AFFECT THE NEED TO GET AN OIL CHANGE
Change oil based on your service schedule. Regular oil changes using quality oil is the Number one priority for keeping a vehicle running well. The inside of a car engine, it gets dirty. Hot Shot's Secret 2-Step Oil Treatment, it removes the buildup in a diesel and gasoline engine that causes poor performance, engine wear and reduces fuel economy. Whether you do it yourself or have someone do it for you, this product restores lost power. For more information, visit www.hotshotsecret.com.
ANOTHER IMPORTANT CHECK UP FOR FALL
Check your tire pressures once a month against the number inside your driver's door. If you need new tires, look for a premium brand such as Kumho Tire. They have been around since 1960 emphasizing safety for car, SUV and truck tires. Using the latest innovative tire compound technology, their tires are optimized for sun, rain and light snow, to give you confidence on the road click here to see a video. Kumho Tire has launched a new tire, the performance-oriented ECSTA PA51. Kumho Tire emphasized all-season performance with the use of full depth 3D sipes, a zig-zag circumferential groove, and an optimized tire compound so that whether it is sunny, raining, or lightly snowing be confident on the road with Kumho Tires. For more information, visit www.kumhotireusa.com.
A FALL CAR CARE TIP WE MAY NOT THINK OF
According to the Centers for Disease Control and Prevention, allergies affect more than 50 million people in the US, and fall is when allergies flair up. The Bosch HEPA Premium Cabin Air Filters provides the cleanest air possible inside the vehicle so passengers can breathe easier while they are traveling this fall. The Bosch HEPA Premium Cabin Air Filters is 99.97% efficient, trapping more pollen, mold, dust and other allergens and irritants that would otherwise enter a vehicle and be circulated through the air. For more information, visit www.boschautoparts.com.
Contact: tipsontv@gmail.com
Source: tipsontv.com
Related Media