LATV Premieres First LGBTQ Latinx Talk Show on Sept. 20
Press Release
•
updated: Sep 18, 2018
With Glitterbomb, Network continues its commitment to diversity and inclusivity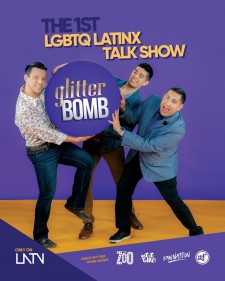 LOS ANGELES, September 18, 2018 (Newswire.com) - LATV Network — the original national, bicultural television network — is excited to launch its groundbreaking weekly talk show Glitterbomb, premiering on Thursday, Sept. 20 at 10:00 p.m. ET / 7:00 p.m. PT.
Glitterbomb is an explosive pop-culture talk show hosted by an entirely gay, Latino, Hollywood-insider panel featuring Entertainment Weekly senior editor Patrick Gomez, iHeartRadio personality Alexander Rodriguez, and actor Enrique Sapene.
The premiere episode of Glitterbomb will feature telenovela superstar Scarlet Ortiz, Pretty Little Liars actor Brant Daugherty and his fiancée Kimberly Hidalgo, Claws actress Jenn Lyon, and One Day at a Time's Justina Machado. The following 12 episodes will spotlight many top celebrities from music, television, film and fashion.
"When 22% of Latino Millennials identify as LGBTQ, this audience is no longer a niche segment. This is more than one in five Latino Millennials. At LATV, we are thrilled to be creating content that truly reflects our viewers," said Andres Rincon, Head of Network Sales for LATV. "With our current state of affairs, it's been refreshing to see how brands are committed to delivering an overall more inclusive and diverse message. One of our first partners to jump on board is P&G with a Tide Pods branded segment. The support from clients has been outstanding!" added Rincon.
The Glitterbomb team has already been making their mark at LGBTQ events across the country and served as the exclusive media partner for the Fashion Designers of Latin America events at New York Fashion Week.
"The response we've received from the LGBTQ Latino community — which has for too long been underserved — has been overwhelming. And we could not be happier that LATV has given three gay Latinos a platform as big as Glitterbomb, co-hosts Gomez, Rodriguez, and Sapene said in a joint statement. "We believe that people of all races, genders, and orientations will see a bit of themselves in our show and have a good time watching it!"
About LATV:
LATV is the only remaining Latino-owned TV network in the Hispanic television space. Its programming primarily targets U.S.-born Latinos and the coveted bicultural 18-49 Latino demographic, with content that features originally-produced shows in Los Angeles, as well as licensed content that has never before been seen in the U.S.
Visit us at latv.com/Glitterbomb to learn more about the show, the hosts and guests.
Source: LATV