Latest Edition of Annual Fire and Life Safety Inspection Benchmark Report Puts Spotlight on Industrial Occupancy Types
BuildingReports® examines code compliance benchmarks for inspection times, device failure rates and other key performance indicators
Press Release
-
updated: Jul 25, 2017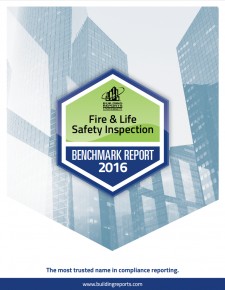 ATLANTA, Ga., July 25, 2017 (Newswire.com) - BuildingReports®, the most trusted name in fire and life safety compliance reporting technology, announces the availability of the third annual Fire and Life Safety Inspection Benchmark Report. The new report examines key performance indicators for the industry, leveraging the world's largest and most robust database of nearly 3.7 million fire alarm, sprinkler, suppression, security and life safety inspections, covering more than 9 billion square feet of facility space.
"We cannot understate the importance of big data when it comes to continuous improvement in the effort to protect people and property," said Jason Kronz, president and chief technology officer. "As the largest source of this type of data in the world, we feel we have a responsibility to share this unique insight with service companies, building operating management, code enforcement officials and industry associations."
Inspectors use mobile devices equipped with BuildingReports' online inspection and reporting technology to scan and log device inspection results of fire and life safety devices throughout commercial and industrial facilities. Upon completion of an inspection, a building's report is uploaded to BuldingReports' web-based portal, where customers can access it online at their convenience. The detailed, verifiable reporting provides a comprehensive record of device inventory, which devices passed or failed, why devices failed, (including the associated codes and standards) and what action is required to be in compliance.
Previous editions of the report uncovered key findings, such as:
Fire extinguishers are one of the most compromised fire and life safety devices, requiring regular service and being at-risk for human tampering. Following the NFPA 10 requirements for monthly visual inspections can effectively reduce this risk. 
While only 13.39 percent of the total devices inspected were attached to conventional as opposed to addressable systems, conventional systems accounted for 17.68 percent of total device failures.
Fire alarm and signaling signage was the most common device type failure at 33.83 percent, while sprinkler system air compressors took the most time to inspect at just under 27 minutes on average.
As in previous years, the 2016 report includes a special supplement that takes a deeper dive into a specific occupancy type. "Industrial occupancy types inherently have their own unique sets of challenges, and downtime due to an incident in these facilities can be extremely costly for companies," explains Kronz. "By helping environmental safety professionals identify common risks and strategies for avoiding them, we can hopefully reduce the number of fire and life safety incidents, and in turn help better protect occupants."
In addition to being available in print at events where BuildingReports exhibits throughout the year, it is also available for download via the company's website or from one of over 800 BuildingReports service members by request.
About BuildingReports
Building safety compliance is critical to service companies, building owners and fire and safety officials who are charged with safeguarding occupants. BuildingReports' mobile and online inspection reporting tools enable inspectors to quickly gather data on fire and life safety devices to ensure they are working properly and meet code requirements, or identify actions needed to meet compliance through easily verifiable inspection reports. With more than 250 million inspected devices to date, over 550,000 buildings represented and 800-plus companies in its network, BuildingReports has earned its reputation as the trusted name in compliance reporting. For more information, contact sales@buildingreports.com or visit www.buildingreports.com.
Media Contact:
David Spence​
​Marketing & Public Relations Manager​
​BuildingReports ​
​marketing@buildingreports.com
770-495-1993
Source: BuildingReports
---
Categories: Business Technology, Business to Business, Compliance and Regulations, Facilities Management, Facilities Maintenance & Management
Tags: BuildingReports, Compliance, Facility Management, Fire, Fire Code, Fire Sprinkler, Fire Suppression, Inspection, Life Safety, NFPA
---