Last-Minute Gifts for Home and Garden
HomeGardenandHomestead.com picks its favorite holiday gifts for home and garden
Press Release
-
updated: Nov 27, 2018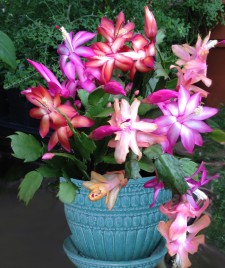 COLORADO SPRINGS, Colo., November 27, 2018 (Newswire.com) - The holiday season is here, and that means making a gift list and checking it at least twice. Some friends and family members are easy to buy for, but others require a bit more creativity in order to find the perfect gift. 
HomeGardenandHomestead.com, one of the fastest-growing websites for information and trends about homes, gardens and homesteads of all sizes, has assembled its annual list of top holiday gifts for home and garden.
"This year's list of holiday gifts includes something for every home, apartment and homestead," said Randall D. Schultz, Content Editor for HomeGardenandHomestead.com. "The gifts range from indoor houseplants for the holiday season to a cozy space heater for keeping warm during the winter. We also selected an attractive pot for growing cacti, succulents and herbs and a labor-saving tool that makes outdoor planting quick and easy." 
All of these gifts can be purchased online for quick delivery in time for the holiday season.
Display indoor plants in a colorful container
Looking for a way to grow plants in style? The new Cacti and Succulent Pot has more than a dozen little pockets where small plants of all kinds can thrive both indoors and outdoors. It's shaped like a traditional strawberry pot, but the modern Cacti and Succulent Pot is sleek and chic enough to fit into any decor. Just fill the container with potting soil and tuck a small plant into each pocket. It's a perfect place to grow cacti, succulents and herbs. Or simply use the pot to display an assortment of flowers. It's a great gift for gardeners, homeowners and apartment dwellers.
The high-gloss Cacti and Succulent Pot is available in four designer colors: turquoise, Mojave red, anthracite gray and white. The ceramic pot is 8 inches in diameter and 10 inches high, so it fits comfortably on any counter. It also makes a terrific centerpiece on a kitchen or dining table. The Cacti and Succulent Pot is available at fine stores and online at www.exaco.com. For more information, call 877-760-8500.
Keep warm and cozy this winter
An energy-efficient space heater is a smart way to keep heating costs down during the coldest months of the year. The Cozy Legs Flat Panel Heater combines both radiant and convection heat to create a powerful personal heater that gently warms legs and feet.
The energy-efficient design means this sleek and compact heater uses only 13 percent of the electricity of a standard 1,500-watt space heater. This versatile heater will fit virtually anywhere from the floor to a desktop. Its light weight and molded-in handle make moving the heater easy. The Cozy Legs Flat Panel Heater makes any indoor space warm and toasty. It sells for $65.45 from www.cozyproducts.com.
A rainbow of colors
A swirl of colors in tones of golden-yellow, pink, red and white makes this Trio of Christmas Cactus a beautiful flowering plant for the holiday season and beyond. The head grower at Logee's Greenhouses has an eye for color and created this combination that has become a favorite among the Logee's staff. This Trio of Cactus includes these varieties: "Christmas Flame," "Cristen" and "Dark Marie." It should bloom just in time for the holidays. Grow this potted plant in full-to-partial sun and let it dry out between waterings.
The recipient of this beautiful gift will enjoy the lush colors that these blooms offer. The plant will get up to 12 inches tall. The Trio of Christmas Cactus is planted in a 5-inch pot and sells for $24.95 from Logees.com.
Digging holes has never been easier
Is there someone on the gift list that loves to dig in the dirt? There is no reason to dig holes the old-fashioned way because planting augers from Power Planter make digging holes fast and easy. These sturdy metal planting augers are the perfect tools for planting all kinds of plants and even for aerating soil in garden beds. The Homeowner Starter Pack from Power Planter contains two of the most popular digging augers. The Garden Planting Auger digs holes that are 2 inches wide and 7 inches deep, which is the ideal size for planting annual bedding plants. The larger Bulb Auger and Bedding Plant Tool digs 3-inch-wide holes up to 7 inches deep, so it's perfect for digging holes for larger bedding plants in the spring and for flower bulbs in the fall.
The planting augers have a 3/8-inch, non-slip hex drill bit end that fits into any standard cordless or corded power drill. Simply put the planting auger into the drill and tighten it up, then use the power drill to quickly drill to the maximum depth of the auger and lift the auger out of the hole. Drop a plant or bulb in the hole and then refill the hole with the loose soil the auger has removed. It's that easy. The Homeowner Starter Pack of two planting augers sells for $37.79 from PowerPlanter.com.
An Amaryllis gift that keeps on giving
Amaryllis bulbs are a perfect choice for indoor growing and they brighten a home in the winter season with their huge, long-lasting flowers. The most common Amaryllis flowers are deep red, but other beautiful colors are also available.
An Amaryllis variety called "Picotee" is a sure crowd pleaser and a great gift for anyone who loves indoor flowers. The huge flowers are bright white with a vivid red border along the edge of the petals. Plant the bulb in a 6-inch diameter pot using a good quality potting mix. Then place the pot in a warm, sunny window and in only six to eight weeks, there will be a gorgeous living bouquet. Picotee and many other Amaryllis varieties are available from www.HighCountryGardens.com starting at less than $15.
Attract and enjoy Monarch butterflies
In the last 20 years, the population of Monarch butterflies has dropped by 90 percent. Fortunately, a growing army of citizen scientists, students and gardeners all over North America are engaged in restoring this beloved pollinator's habitat.
In the beautifully illustrated book The Monarch: Saving our Most-Loved Butterfly by Kylee Baumle, readers learn the story of a magnificent species of butterfly, the perils it faces and what we can do to help. This beautifully illustrated book gives the most up-to-date information, fun facts and projects for all ages, including how to create a monarch waystation in the backyard and how to raise a monarch at home. The Monarch Collection Gift combines this delightful book with four varieties of flower seeds that Monarch butterflies love. Just follow the planting instructions on the seed packets to grow Milkweed/Butterfly Flower, Zinnia "Cut and Come Again," Common Milkweed and Purple Coneflower (Echinacea). The Monarch Collection gift sells for $24.99 from Botanical Interests. 
For more stories about what's new and trending for homes, gardens and homesteads -- including holiday decorating ideas, visit HomeGardenandHomestead.com. 
Source: HomeGardenandHomestead.com
Share:
---
Categories: Home
Tags: garden, gift, gifts, giving, holiday, holidays, home, homestead, indoor plants, season
---