Laser Skin Resurfacing in Guelph: New eCO2 Treatments at deRMA Skin Institute
Dr. Dusan Sajic says laser skin resurfacing is in demand as patients learn of the benefits of eCO2 laser treatments at deRMA Skin Institute.
Press Release
-
updated: Jan 9, 2021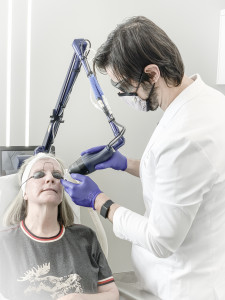 GUELPH, Ontario, January 9, 2021 (Newswire.com) - Are CO2 laser treatments worth the downtime? "Yes," says Dr. Dusan Sajic. of deRMA Skin Institute in Guelph. "This is especially true for patients with significant sun damage, pre-cancers or fine lines and wrinkles. Lighter 'lunchtime lasers' and intense pulsed light treatments are appealing for their low downtime and cosmetic benefits but do not exhibit the same preventative effects."
"As advanced signs of aging begin to show in our late 40s and early 50s, and worsen in our 60s and 70s with deep seated texture, pigmentation, wrinkles, laxity and actinic keratoses, we must consider more aggressive strategies to correct these effects and restore a healthy skin appearance," says Dr. Sajic. "CO2 Laser treatment remains the most effective non-surgical treatment for safely treating these concerns and for improving texture from aging, pollution and sun damage. Numerous studies show that laser skin resurfacing results in long-term prevention against actinic keratosis, and thus it has continued to grow in popularity as an early and pre-skin cancer treatment."
Laser skin resurfacing with less downtime.
"New eCO2 laser technology improves on the safety of fractional CO2 lasers," says Dr. Sajic. "By treating a fraction of the skin recovery is faster, with less downtime and reduced risks of adverse effects. deRMA Skin Institute has developed protocols to target many of our patient's concerns with eCO2 laser treatments: A full face can be treated in about 20 to 45 minutes. We often recommend combination treatments with lasers, Morpheus8 treatments, intense pulsed light, fillers (Restylane, Belotero and Juvederm) and Botox or Dysport. By using complementary treatments, we can address all the signs of aging in each of the five dimensions of the aging process; it is with this in mind that we developed our patented 5 Dimension Skin Lift™ - the pinnacle of minimally invasive, non-surgical face lift and rejuvenation."
To schedule a consultation visit dermaskininstitute.com or email to: consult@dermaskininstitute.com  • 519-836-8558.
deRMA Skin Institute, Guelph • Instagram: @dermaskin_institute
Dusan Sajic MD PhD (Molecular Immunology)
Dermatologist FRCPC DABD FAAD
Assistant professor clinical medicine, adjunct McMaster University. Hamilton ON Canada
Dr Dusan Sajic Medicine Professional Corporation
Source: deRMA Skin Institute
Share:
---
Categories: Dermatology/Skin Diseases
Tags: 5 Dimensions Skin Lift, anti-aging, Botox Guelph, deRMA Skin Institute, Dr. Dusan Sajic, eCO2 laser, laser skin resurfacing in Guelph, laser skin resurfacing Kitchener area, less downtime, lunchtime laser, new laser skin treatment, pre-cancer treatment, skin rejuvenation, sun damage, wrinkle removal
---